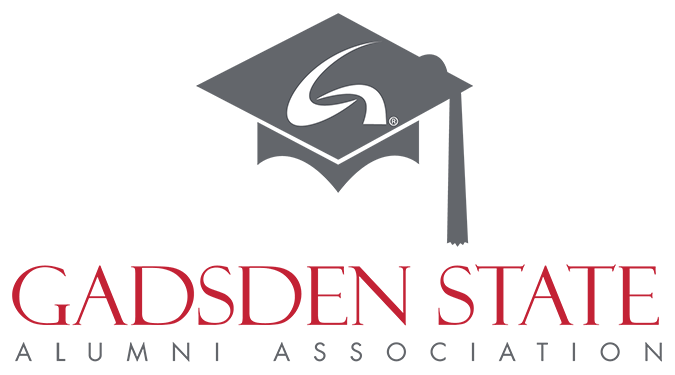 The Gadsden State Alumni Association is an advocacy group comprised of alumni, students, faculty, staff and community supporters. Its purpose is to advance, support and promote the interests of the College, its students, the alumni and its members.
The Gadsden State Alumni Association provides scholarships, recognition opportunities, engagement and networking events and more for students, faculty, staff, alumni and members. Become a member today by completing a membership application.
MEMBERSHIP CATEGORIES
Associate: Gadsden State faculty and staff, spouses of graduates and friends of Gadsden State
Graduate: Individuals who have graduated from certificate or degree programs at Gadsden State
Regular: Current and former, full-time or part-time Gadsden State students

MEMBERSHIP DUES
Student Chapter: $10 a year (Gadsden State students graduating with a certificate or degree receive a one-year complimentary membership)
Annual Membership: $20 a year (renewal in October)
Lifetime Membership: $300 (installment plans are available)

DUES SHOULD BE SENT VIA CHECK TO:
Baisha Woody
Alumni Association Treasurer
PO Box 227
Gadsden, AL 35902
2022-2023 Gadsden State Alumni Member Benefits (Etowah County)
20% off at the Gadsden State Book Store on all GSCC Labeled Merchandise
Free Admission +1 to all Athletic Events
Free Gear Rental with Purchase of Day Pass at GadRock Climbing Gym
10% off Food and Merchandise at Back Forty
15% off Lunch Purchase at Gadsden Variety
Buy 2 Get One Free at Frios Gourmet Pops (Noccalula Falls only)
10% at Blackstone Pub and Eatery purchase (excludes alcohol)
10% off Current Market & Deli purchase (excludes alcohol)
10% off play at The Alley
10% off play at The Factory
10% off at The Coffee Bar
10% off at The Alabama Gift Company
$5 off Vehicle Services at Ronnie Watkins Ford
GSCC Alumni Benefits Program (Calhoun County)
20% off GSCC Merchandise at GSCC Bookstore
$10 off adjustments for Private Payers at Harrison Sports Chiropractic
Free consultation if using Health Insurance at Harrison Sports Chiropractic
10% off entire purchase at Dang Girl, What's Poppin Boutique
$5 off Labor Charge at Langley Performance
$1 Regular Snowball at Pelican's Snowballs
10% off Cutter's Pizza at Alexandria and Oxford Locations
10% off any Regular Priced Item at Kolectic Treasures
10% off at Music City Bagels
10% off at Coldwater Mountain Brew Pub (excludes alcohol)
10% off at Thumb Sucker's restaurant in Oxford
The Gadsden State Alumni Association is selling commemorative, personalized bricks that will be placed in the newly-renovated courtyard at the College's Wallace Drive Campus to raise funds for student scholarships.
The bricks are $100 each and include three lines of 16 characters or spaces per line.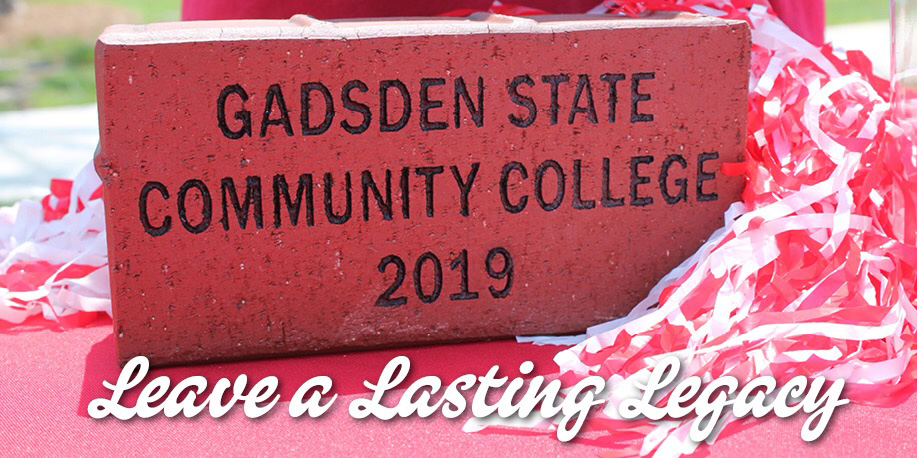 Follow the Alumni Association on Facebook
---
Scholarships
The Gadsden State Alumni Association gives student scholarships each year.
---
Annual Awards
The Gadsden State Alumni Association honors several individuals at the annual Christmas luncheon for outstanding service to the College. Heather New, president of the Alumni Association, presented certificates to outstanding faculty, technical faculty, support staff and alumni. Honorees received a personalized brick that will be placed in the courtyard on the Wallace Drive Campus.
---
Board Members
President: Heather New
Vice President: Julie White
Treasurer: Baisha Woody
Secretary: Tom McElrath
Board Members
Melissa Davis
Brooke Davis
Christine Foster-Cates
Maria Petersen