Continuing Education
Gadsden State's Continuing Education Department is committed to linking College and community resources to provide quality enrichment programs to people of all ages. Through the Continuing Education Department, fee-based workshops, classes, community service activities and continuing education courses are offered. Offerings are designed for people who want to learn for personal and professional growth but aren't necessarily interested in earning academic credit or pursuing a college degree. Programs are provided for traditional and non-traditional students and can be targeted to individuals in business, government, professional organizations and social services.
The Continuing Education Department consists of two major divisions: Professional Development and Community Education. Examples of courses provided through the Professional Development Division include nursing seminars, air conditioning and refrigeration instruction and CPR. The Community Education Division includes a large variety of classes aimed at personal development, interest and leisure courses. Programs are provided for youth, adults and seniors through seminars, workshops and short courses. Satellite conferences and special events are also presented through the Continuing Education Department. Courses appear online and in the schedule of traditional Gadsden State classes each semester.
Check out the available courses:

| Course | In-Person Class | Skills with Instructor |
| --- | --- | --- |
| BLS for Healthcare Provider (CPR) | $75 | $45 |
| Heartsaver / AED CPR | $75 | $45 |
| First Aid | $75 | $45 |
| Heartsaver First Aid CPR/AED | $120 | $55 |
| ACLS | N/A | $55 |
| PALS | N/A | $55 |
All costs are per student
Online Courses
Costs vary for online courses
Other classes for you, your community, group or organization are available upon request. For more information, contact Pam Clough at 256-549-8462 or email pclough@gadsdenstate.edu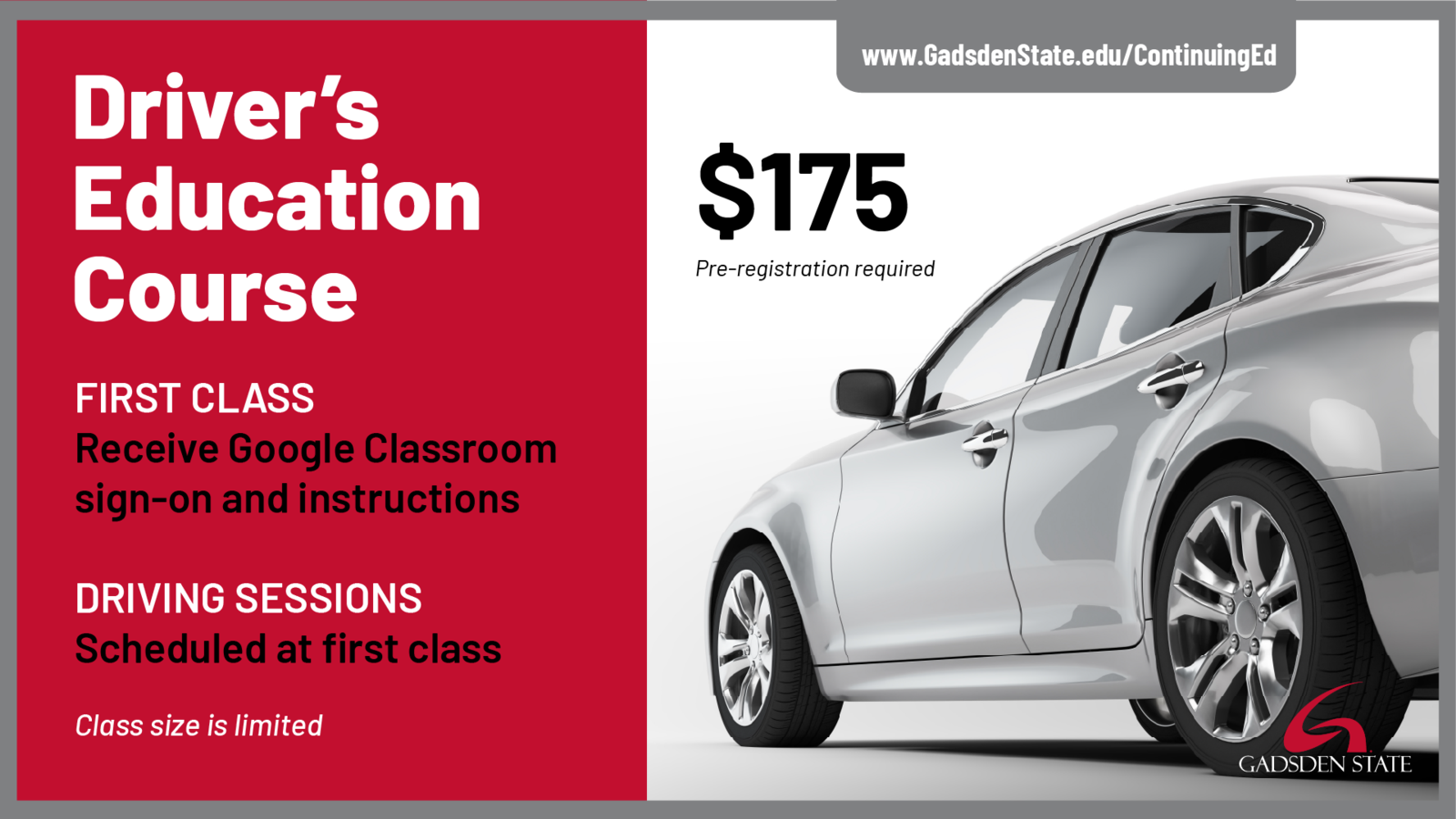 At the initial class meeting, students will receive instructions for Google Classroom and schedule driving times during this session. Masks will be required while in the drivers education car. Class size limited to 9. The course is $175.
Spring Class
East Broad Campus in Gadsden: Saturday, April 14, 21, 28 and May 6, 8 a.m. to noon
Summer Class
East Broad Campus in Gadsden: Monday - Thursday June 5 – 8, 8 a.m. to noon
Gadsden State Cherokee: Monday - Thursday June 19 – June 22, 8 a.m. to noon
Ayers Campus in Anniston: Monday - Thursday July 10 – 13, 8 a.m. to noon
East Broad Campus in Gadsden: Monday - Thursday July 17 – 20, 8 a.m. to noon

Pam Clough, director
256-549-8462