Diagnostic Medical Sonography
Diagnostic Medical Sonography Program
The Diagnostic Medical Sonography Program has a carefully-designed curriculum that provides students with the knowledge and training needed to thrive in the sonography industry. The program covers abdomen, small parts, obstetrics-gynecology and vascular sonography.
Foundational classes are offered by highly-skilled, credentialed instructors both in the classroom and clinical lab. Hands-on training is offered on the latest in imaging technology to prepare students for clinical rotations and patient care. Experience in the field is a crucial part of the learning process and allows students to learn in a true healthcare environment as they prepare for transition into the workforce.
Upon successful completion of the 76-hour DMS Program, students will be academically prepared to sit for registry exams with the American Registry for Diagnostic Medical Sonography, Cardiovascular Credentialing International or the American Registry of Radiologic Technologists. The student will have obtained the necessary knowledge to attempt credentialing in the modalities of Abdomen, OB, or Vascular, when eligible with each perspective agency.
Information meetings for prospective students are held each semester. Students selected for the program are notified no later than June 15 each year. A mandatory orientation meeting is held in late-June for all accepted students.
The DMS program has received accreditation for the general program as well as the vascular concentration from the Commission on Accreditation of Allied Health Education Programs.
Background checks will be required upon admission into the program.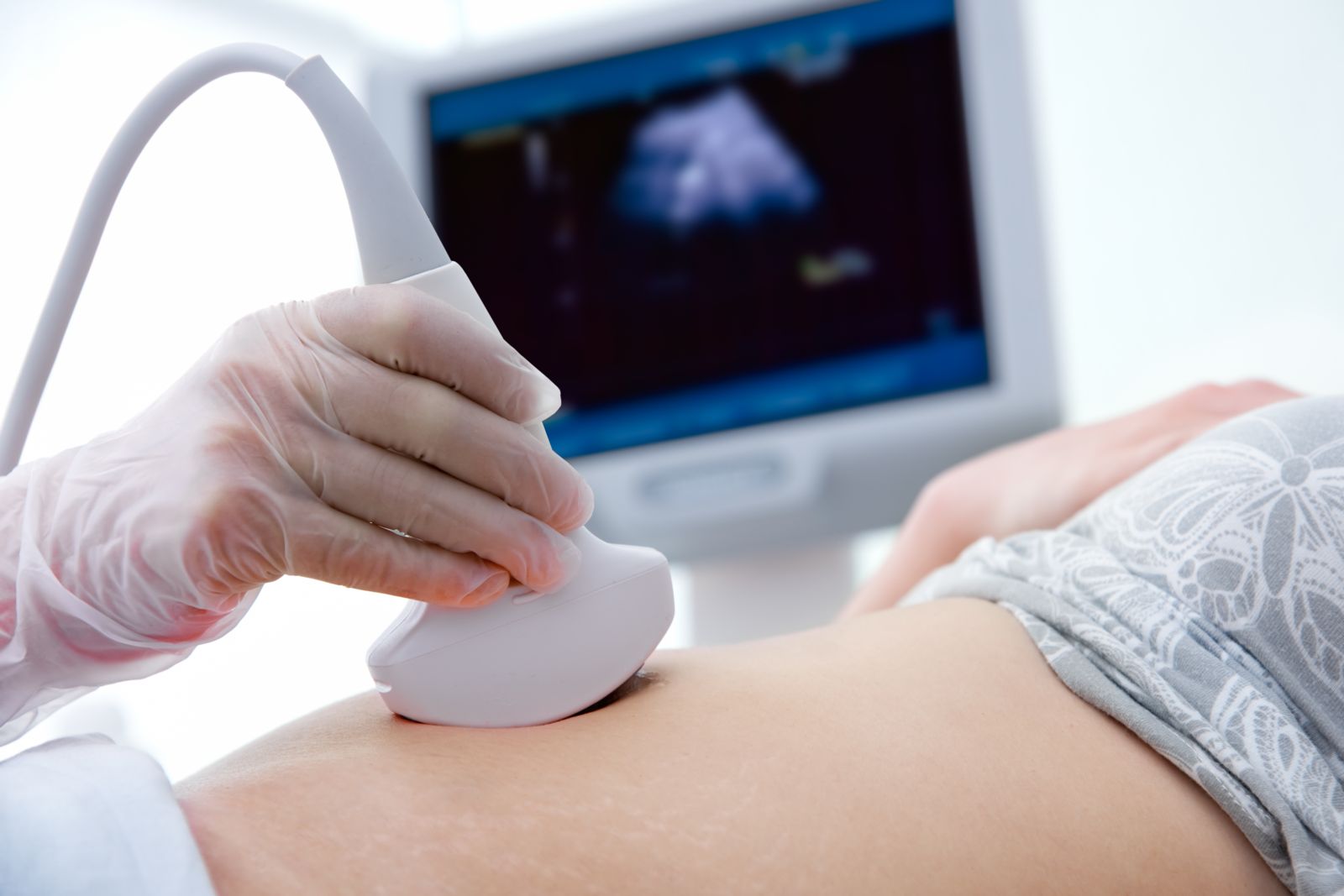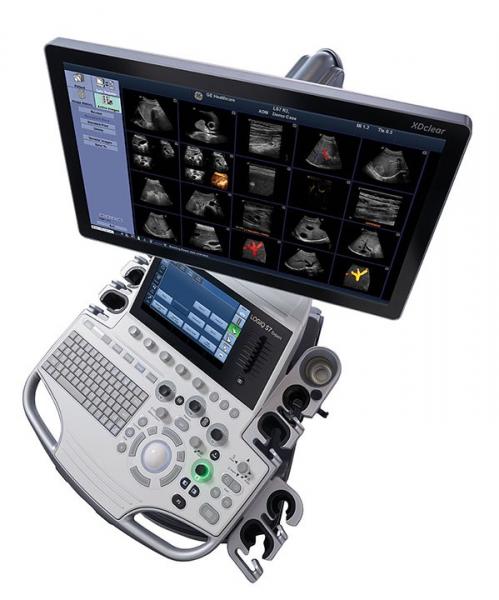 Informational Meetings
Please watch the DMS Information Session video if you have not attended one of the prior meetings. This is a mandatory requirement for a student to apply for the program.
---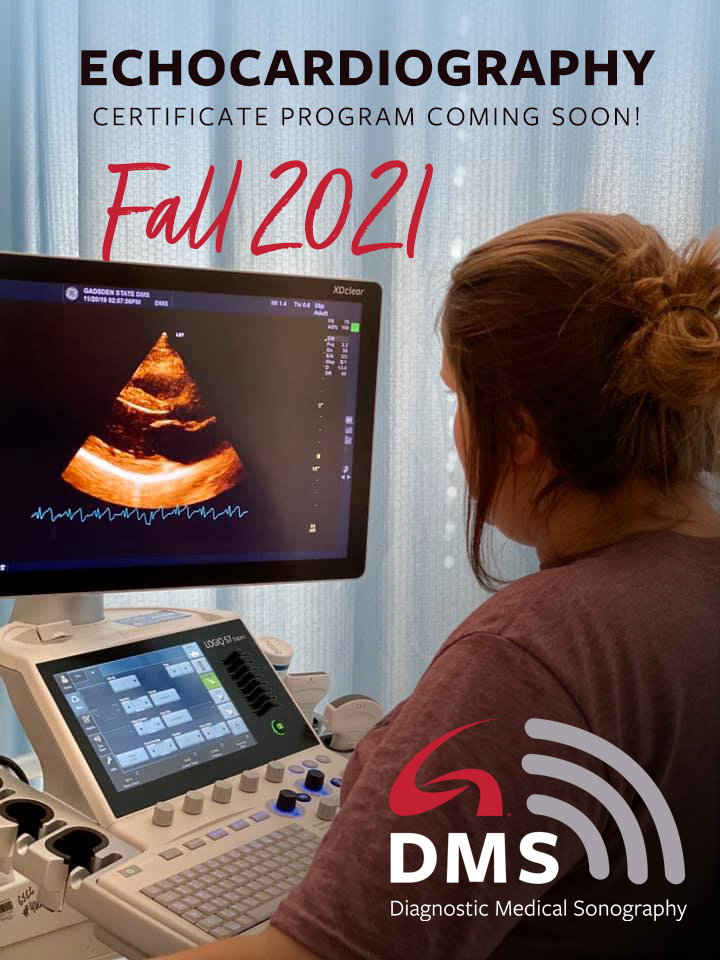 Echocardiography Certificate Program
Gadsden State's Echocardiography Certificate Program launches Fall 2021! Online courses and evening lab times offer working Sonographers the opportunity to build on their current skills and add a new modality to their resume.

You must meet ONE of the following criteria to apply:
Graduate of a CAAHEP accredited DMS program
Vascular Registered Sonographer
Sonographer with over 5 years clinical scanning experience

A small number of seats are reserved for Senior level DMS students who have passed SPI and obtain Program Director and Dean approval.
---
A new class will be admitted to the Diagnostic Medical Sonography Program each Fall Semester. Student selection is based on completion of all requirements: ACT scores, transcripts, admission score and availability of space at the clinical facilities.
Unconditional admission to the college. Apply for admissions here.
Submit online program application prior to May 10 for Fall start.
Submit supporting documents to the Admissions Office by the deadline:

Official transcripts from other colleges
Official ACT score (with a minimum composite score of 18 on the national or residual test)

Must have at least a 2.5 GPA on a 4.0 scale on general education courses
Must maintain a C or better on all general and pre-DMS courses. If courses were repeated, the highest grade for the course will be used.
Must complete all general required courses for the DMS Program by the application deadline or be enrolled in the course to be completed no later than the Spring Semester of the year of your application deadline at Gadsden State. (See FAQs for a list of pre-requisites.)
Must be in good standing with the College
Must meet the Essential Functions required for DMS students
Pass a criminal background check and drug screen
Must attend DMS information session and receive signed documentation of attendance
Must be able to show Proof of Health Insurance once offered admittance into the program
Students who make it into Phase 2 of the Admissions Process, must show proof of CPR-BLS. (It is recommended to obtain certification as soon as possible so you aren't in a time crunch trying to find a course to take.)
Following application and registration completion, students are scored using a blind scoring system based on their GPA and ACT score. The Top 40 applicants will move to Phase 2 of the admission process. Students who do not score in the Top 40 will receive written advisement of their status and will be encouraged to apply again for the next class or apply for one of GSCC' s other great Health Science Programs.
Phase 2 of Admissions Process
Panel interview. Students will be notified via email of interview date and time
Written essay detailing "What is Sonography?" and "Why I want to become a Sonographer?" Must be a minimum of two pages and must be brought to the panel interview
Two typed and signed professional letters of recommendation
Copy of CPR-BLS certification (bring to panel interview)
Essential Functions are the fundamental job duties and skills associated with a particular position. All students are required to read the Essential Functions identified for the Diagnostic Medical Sonography Program and determine if they are capable of performing these functions with or without reasonable accommodation. Students must be able to: *
Accurately perform the individual steps of a task in proper sequence
Assist patients on and off examining tables and ensure safety of patients
Communicate effectively with patients and healthcare professionals
Adequately view sonograms, including color distinctions
Work standing on feet 80 percent of the time
Distinguish audible sounds
Have full use of both hands, wrists and shoulders
Bend and stoop routinely
Push and pull routinely
Lift more than 50 pounds routinely
Interact compassionately with the sick or injured
* The Americans with Disabilities Act requires colleges and universities to inform students of all performance expectations related to their job and school performance. In accordance with College policy, when requested, reasonable accommodations may be provided for individuals with disabilities. Requests for reasonable accommodations should be directed to the program director.
Diagnostic Medical Sonography Program Goals
"To prepare competent entry-level general and vascular sonographers in the cognitive (knowledge), psychomotor (skills), and affective (behavior) learning domains".
Diagnostic Medical Sonography Estimated Program Costs
| Items | Cost |
| --- | --- |
| Books | $1,450 |
| Uniforms | $150 |
| Shoes | $40 |
| Pictures (graduation) | $40 |
| Pin | $80 |
| Graduation Fee (including cap and gown) | $60 |
| Drug Screen and Background Checks | $80 |
| Health Insurance (if purchased through school) | $525 |
| Annual Physical and immunizations (depending on needs) | $296 |
| CPR | $45 |
| Tuition: 76 semester hours at $164* each | $12,464 |
| Trajecsys Registration | $150 |
| Total | $15,380 |
*In-state tuition fees are $164 per credit hour and consist of $123 per credit hour for tuition, $10 per credit hour ACCS enhancement fee, $9 per credit hour facility renewal fee, $9 per credit hour technology fee, $12 per credit hour special building fee, and a $1 per credit hour ACCS reserve fee.
Want to be a VOLUNTEER and receive an Ultrasound Scan?
We offer instructor led, student performed ultrasound scans for OB patients in 1st, 2nd and 3rd trimester. 4D scans also available. Other ultrasound screenings available include vascular, abdomen or thyroid. Charges apply for OB scans and image downloads.
Please note: All Ultrasound scans performed at GSCC are for Student Education ONLY and non-diagnostic. GSCC, its staff and/or students, are not responsible for volunteer patient's medical diagnosing or medical outcomes.

Rebecca Southern, program director and instructor
256-439-6885