Latest News
---
07/28/23
Gadsden State instructor's giving spirit takes her to Rwanda
Gadsden, Ala. — Rebecca Southern is many things – a mother, wife, teacher and leader. She is known for her inspirational words that encourage and uplift her students at Gadsden State Community College. She respects others and treats them as she expects others to treat her. She spends a lot of time planning book studies, hosting baby showers, organizing student activities and celebrations, and supporting her community through volunteerism and positive stewardship. Yet, Rebecca Southern still finds time to spread her knowledge and expertise to those in Rwanda.
"Inspired by my Christian faith, I prioritize volunteerism and good stewardship in my life wherever possible," Southern said. "Teaching in Rwanda was a heartfelt opportunity to serve and make a positive impact. I am humbled and honored to have had the opportunity."
Southern, the director of Gadsden State's Diagnostic Medical Sonography Program, went to Kigali, Rwanda, earlier this month to partner with the East African Christian College. Her goal was to expose students and instructors to sonography by teaching them how to utilize donated equipment.
"The people of Kigali truly inspired me," she said. "They are so eager to learn, and they care greatly for the work they are doing."
Southern's journey to Rwanda actually started in Jefferson County at Christ Health Center. Her students are required to complete clinical practices at various clinics like CHC. She and Kelsey Taylor, clinical coordinator at Gadsden State, both serve as clinical instructors at this location.
Through the partnership, they met Drayton Nabers, a philanthropist and the former chief justice of the Alabama Supreme Court. Drayton donated an ultrasound machine to CHC and began to ask questions about how he could bring ultrasound training to the East African Christian College in Rwanda, an organization that is near to his heart.
Though much progress has been made in Rwanda, the African country is still recovering from the 1994 genocide that resulted in widespread loss of life, failure of its infrastructure and neglect of important cash crops.
"We really wanted to do something that would benefit the people of Rwanda," Southern said. "They are living in a constant spirit of forgiveness. It is admirable and humbling."
Having heard about the work being done by Gadsden State's DMS students at CHC, Nabers proposed a partnership that would link Gadsden State with the East African Christian College. He then purchased a laptop ultrasound machine to be donated to the East African Christian College and asked Southern to deliver it as well as offer some introductory training. Southern approached Dr. Joey Battles, Gadsden State's dean of Health Sciences, about making the trip to Rwanda. He was in full support of the partnership.
"Without Drayton's generosity and Joey's support, my students would not have the opportunity to do clinicals at Christ Health Center, and I would not have been given the opportunity to serve the East African Christian College," she said.
On July 3, Southern left Alabama for a two-day journey to Rwanda. Once she arrived, she was taken to the Rwandan archbishop's house, where she stayed for the remainder of her trip.
"Archbishop (Laurent Mbanda) hosts people at his home all of the time," she said. "The Rwandans love people who are willing to help their country."
Southern trained 12 students and midwives at the East African Christian College on the basic point of care and knowledge using ultrasound. For hands-on experience, five pregnant women volunteered so that students were allowed to practice the skills they were being taught.
"Knowing how to understand an ultrasound, even if it is the basic point of care ultrasound, is so beneficial to the health of the woman," Southern said.
Due to the lack of medical resources in Africa, there is a high number of maternal deaths, she said.
"We are spreading skills that could potentially save a mother's life as well as the life of her child," she said. "Through ultrasound, we can date a pregnancy so the mother knows when to anticipate the birth of their child. We can listen to heart tones. We can provide placental locations to determine in advance if a C-section is needed. Many of them deliver in a hut or a small clinic, but, if they know in advance that special care is needed, they can plan ahead and deliver in a hospital."
The long-term goal is to provide educational experiences in Rwanda to senior DMS students from Gadsden State. Each year, a small group will be sent to the East African Christian College to participate in the shared learning experience.
"Gadsden State students will assist the East African students with hands-on ultrasound," she said. "In turn, the East African students will share their training and culture with our students."
Southern said it was a wonderful pleasure to work with the students at the East African Christian College.
"They are like sponges, ready to absorb all of the information," she said. "They are smart and easy to teach. They put excellence in everything that they do."
Southern will continue assisting those in need of medical training and support. She has partnered with the Chikondi Health Foundation in Wetumpka to take a group of Gadsden State students to Malawi for a surgical trip in October.
"We will be working in a hospital called Blessings Hospital, which does not have the financial means to have sonographers," she said. "I am excited to see the work our students will do at Blessings Hospital. We are so grateful to be able to experience different cultures and practices through these medical mission trips."
The cost of the trip to Malawi is $3,000 per person for travel, lodging, meals and a safari. Students will be approaching potential sponsors and conducting fundraisers to afford the trip. Those interested in donating to the cause can reach out to Southern at rsouthern@gadsdenstate.edu.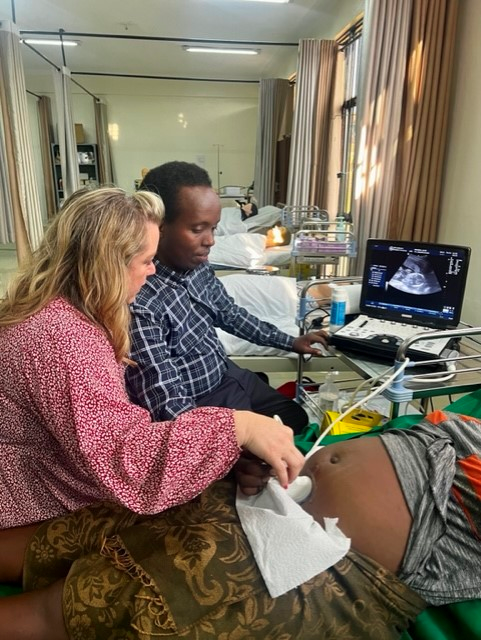 Rebecca Southern teaches Chris Kanakuzi how to do an obestrics ultrasound exam. Southern is the director of Gadsden State's Diagnostic Medical Sonography Program. Kanakuzi is a midwife instructor at the East African Christian College in Rwanda.
---
Sarah Kate Edmondson is an intern in the Gadsden State Public Relations and Marketing Department. She is a senior majoring in Communication Studies and Public Relations at Troy University.