Latest News
---
10/19/22
Manufacturing Month Faculty Spotlight: Daniel Anderson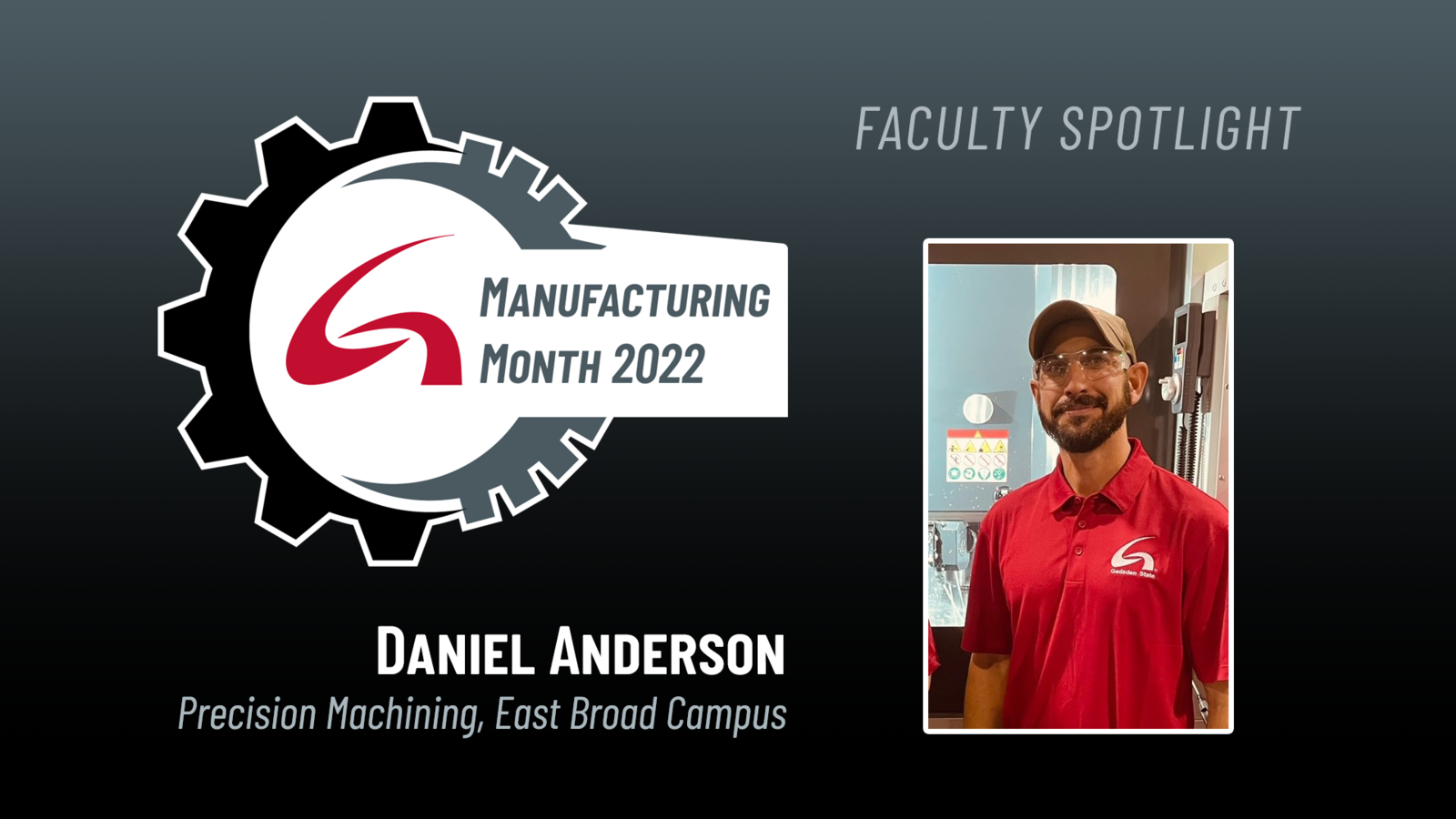 Daniel Anderson
Precision Machining Instructor on the East Broad Campus
Education: Graduated Summa Cum Laude with an associate degree in Precision Machining from Gadsden State Community College
Certifications: Has machining certifications from the National Institute of Metalworking Skills and Haas Automation; also, is certified as a master naturalist from the University of Florida
---
What led you to a career in the technical field?
From the time I was 11 to 18 years old, I was working at my grandfather's business when I wasn't in school. He was the second largest manufacturer and distributor of metal cutting sawblades in North America. It was there that I learned the importance of a good work ethic and that I love to work with my hands and my head.
What do you think is the most challenging factor in recruiting students to career technical fields?
As it pertains to precision machining, the most challenging factor in recruiting is the fact that most people have no idea what a machinist does. I am hoping that through videos and social media, we can spread the word about all the wonderful, fulfilling and well-paying opportunities that are available in this trade. See the video about Precision Machining here.
Why do you think students should pursue a career in Precision Machining?
Machining is a very rewarding career for someone who enjoys working with their hands as well as their minds. If you have good problem-solving skills and a mechanical aptitude, there are many opportunities for high-wage earning careers. Currently, the average age of a machinist is 57 years old, which means there are more older individuals working in the trade than younger ones. These openings are not going away as the older tradesman retire. In fact, it is quite the opposite. There is more demand than ever for skilled machinist in this country, and because of such a demand, the opportunities and wages have been increasing greatly.
What makes the Precision Machining Program unique?
For starters, everything in the modern manufactured world would not exist without machinists. From that airplane you took on vacation, the car you drove to work, the chair you're sitting in, the meal you ate for dinner last night and even the computer your using to read this, none of these things would be possible without a machinist.
What is the most rewarding aspect of you job as an instructor?
Being a machining instructor has been one of the greatest blessings in my life. I get to work every day with students that want to push themselves to be better and are not afraid to think outside the box. It allows me to foster a culture of skilled tradesman that are willing to ask the hard questions such "how, why and what can we do or make to improve life for ourselves and those around us?" Being an instructor has afforded me many opportunities to meet other individuals in education, industry and the government that are just as passionate as I am about this wonderful and rewarding trade. Working with these colleagues, we have created many great opportunities for my students and the local manufacturing industry as a whole. Some of the examples of these new opportunities at Gadsden State include multiple certification programs, an industry recognized CNC training center, Nationally Certified Apprenticeship programs and much, much more to come. I have a deep love and passion for this trade, and I look forward to passing this on to my students for many years to come.
For information about Precision Machining and other Career Tech programs, visit www.gadsdenstate.edu/technical.