Latest News
---
10/26/22
Women in Manufacturing: The Shirley Ramsey Story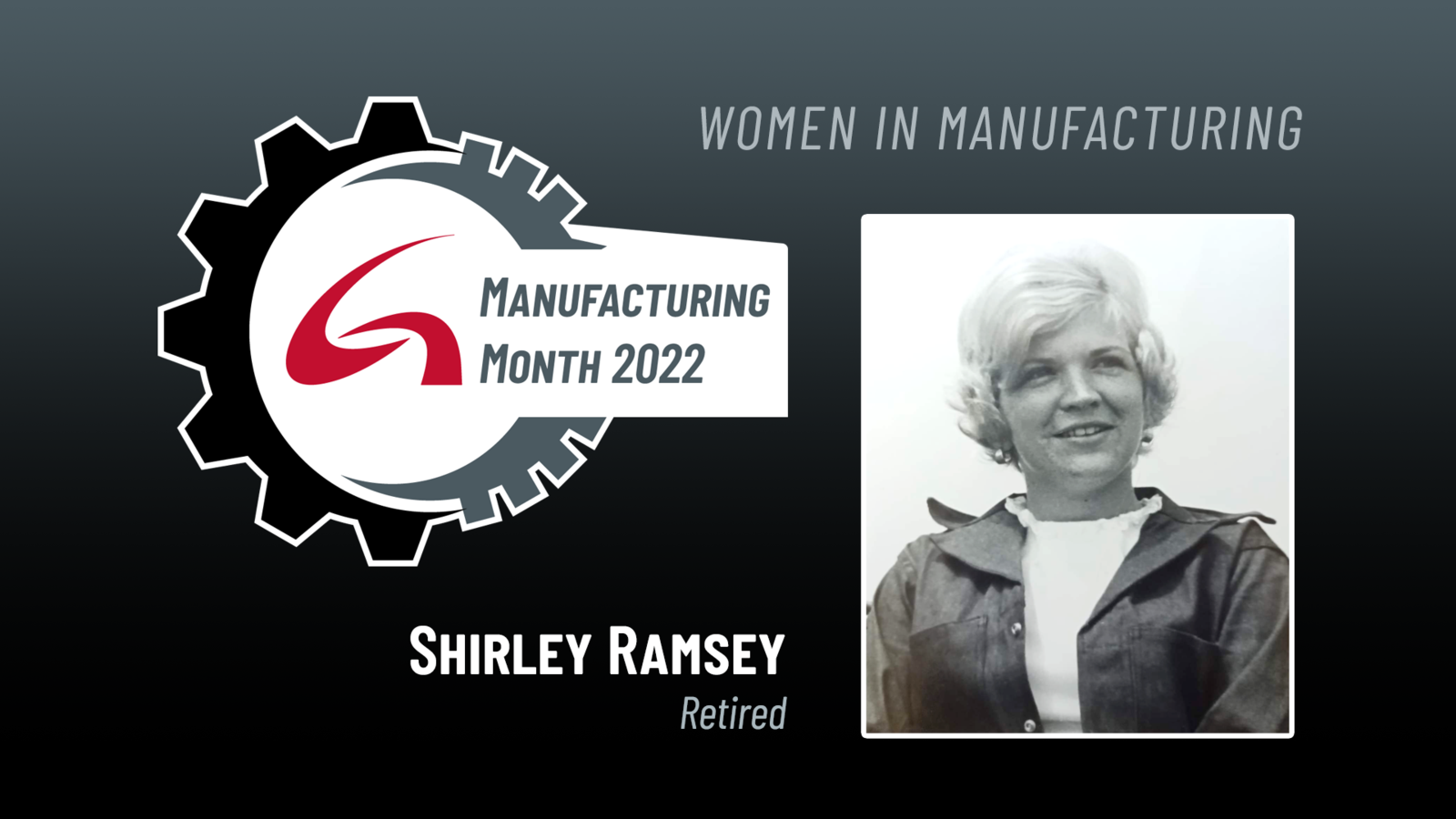 During the industrial revolution of the 1920s, there was an increase in female factory workers as the men were sent off to war. This once again picked up in the 1960s as women's equality movements became popular across the country. Not only were they performing manual labor but they were also involved in other aspects of manufacturing, like engineering, designing, research and distribution. By 1960, 38 percent of the workforce was women. The number increased to 43 percent in 1970. Today, women represent 47 percent of the total labor force.
Shirley Ramsey of Saks made her mark on manufacturing in the late-1960s when she was temporarily hired as a trades helper at the Anniston Army Depot. Gadsden State Community College celebrates her and those like Shirley during Manufacturing Month. This is her story.
---
I went to work at the Anniston Army Depot right before the Equal Employment Opportunity Act was passed in 1972. This act prohibited workplace discrimination, and this included hiring women, even for positions historically considered a "man's job." I was assigned to the Engine Room on the Chrysler V-8 engine rebuild assembly line. To me, this was a fairly easy job – the conveyor brought an engine block with no components, then, as it moved down the line, parts were added. I spent most of that time installing the head and pistons. After two years, I was laid off.
Three years later, I reapplied to the Anniston Army Depot to work as a heavy mobile equipment mechanic. I was hired as a WG-5 trades helper working on the M60 tank along with male mechanics.
I was determined to prove I could do the job, which was extremely hard at times. It was an assembly line, starting with an empty tank hull and moving down the line with parts installed at each bay. The easiest bay I worked in was the electrical bay installing the wiring. Though it was the easiest bay, it was still difficult. I had to climb around on my knees in the tank hull. In the hardest bay I was assigned, I had to set the top deck and install the track. Complete disassembly, welding and machining were all done in the very large Building 400, which was extremely loud and smoke-filled from tanks running with no heat or air conditioning.
Later, I applied for and was selected as a WG-9 mechanic and then a WG-10 mechanic. At this time, we were building M48A5 tanks. I was also trained and received a license to be an overhead crane operator.
Eventually, I was selected as a WG-11 mechanic. That's the highest grade of mechanic available. This position was a bit harder. We built unique vehicles with a partner. My partner and I mainly built bridge launchers, which were huge tanks full of hydraulics to raise and lower a bridge mounted on top of the tank. The best part of getting my tank license was driving the tank to the test track and operating the bridge.
In 1983, I applied for and was chosen as a heavy mobile equipment mechanic leader. Life got a bit easier then and I was earning $11 an hour! My favorite time during this period was when I was chosen to be on the team to disassemble and reassemble the very first M1 Abrams tank in order to write the technical instruction manual on it. It was very secretive and we were required to have a top-secret security clearance with armed security guarding the tank. During this same time, I enrolled at Gadsden State Junior College, taking classes three nights a week while working towards my business degree. I was on the Dean's List.
In 1986, I applied for and was selected as quality assurance specialist performing quality inspections throughout the maintenance area. In 1989, I was selected as a maintenance management specialist on a team establishing an automated central location for all tank parts required for rebuild. I worked with two computer specialists and two engineers to automate receiving and storing parts in a central location. It is known as the Automated Storage and Retrieval System (ASRS). We traveled to the contractor several times in Salt Lake City.
After completion of the building and equipment, conveyors and robots would store parts received. The parts attendants in the shops could order parts via computer. Parts would then be picked by cranes and put on robots to deliver the parts. We oversaw installation of the first computers in the shops.
Another team – the Maintenance Shop Floor System – was soon created. We taught parts keepers how to order parts from ASRS. I was later selected as supervisor of this operation and then promoted to division chief responsible for ASRS operation; the Tool Crib, which ordered and issued all tools used at the Depot; the K-Yard, which ordered and issued supplies; and the Steel Yard, which ordered and issued all supplies used in the maintenance area. This was my position until my retirement in 2002.
Shirley Ramsey's granddaughter is Hollie Bonds, Mechanical Design instructor on the Ayers Campus.