Latest News
---
05/22/23
Gadsden State's Valley Street Campus hosts Title III Mentoring Program reception
Gadsden, Ala. – Gadsden State Community College's Valley Street Campus hosted its first Title III Mentoring Program reception for students participating in the program at 5:30 p.m. May 16. The program is a mentorship for male juniors and seniors from Etowah High School.
Male students, particularly minority, are eligible for the program with the recommendation by a school official. Each participant must currently be enrolled in the 11th or 12th grade and exhibit good behavior.
The Title III Mentoring Program included student workshops focusing on life skills, post-secondary choices, financial aid options, conflict resolution, digital citizenship, technology and social media. Participants engaged in team-building activities and educational field experiences.
"The mentoring program was built around character, commitment and community," said Ricky Tillis, Valley Street Campus director and mentoring program advisor. "I wanted the activities to focus on character building, critical thinking and the fundamentals necessary to succeed beyond high school."
The first-time completers of the Title III Mentoring Program include Jatory Barnett, Drayton Gross, D'Anthony Hale, Marquan Mahome, Jaleel Penn, Michael Tecero and Victor Hernandez.
The reception included comments from Reginald Tillis, an Etowah High School and Gadsden State graduate. He shared his educational journey and explained how he discovered the difference between a job and a career. Tillis now works as an educator in the Gadsden City School System.
"The mentoring program was intriguing," said Jatory Burnett, a junior. "It was hands-on and we discussed self-respect and how to respect others."
Students in the program participated in sessions with the program advisor during the school day for 30 to 45 minutes twice a month in a designated location at Etowah High School.
"I appreciated how open Mr. Tillis was during the mentoring sessions," said Drayton Gross, a junior. "He shared about his life and what you do matters. How we treat others matters."
The 11th-grade participants were encouraged to reenroll in the Title III Mentoring Program in Fall 2023.
"Having a program advisor helped me recognize my potential and how to react appropriately in any situation, especially to online bullying," said Victor Hernandez, an Etowah High School graduating senior.
There was no cost to participating students, their parents or the school for the program. The Mentoring Program is 100 percent funded by the U.S. Department of Education through Title III. For more information about Valley Street's Title III program, please visit www.GadsdenState.edu/HBCU or call 256-549-8667.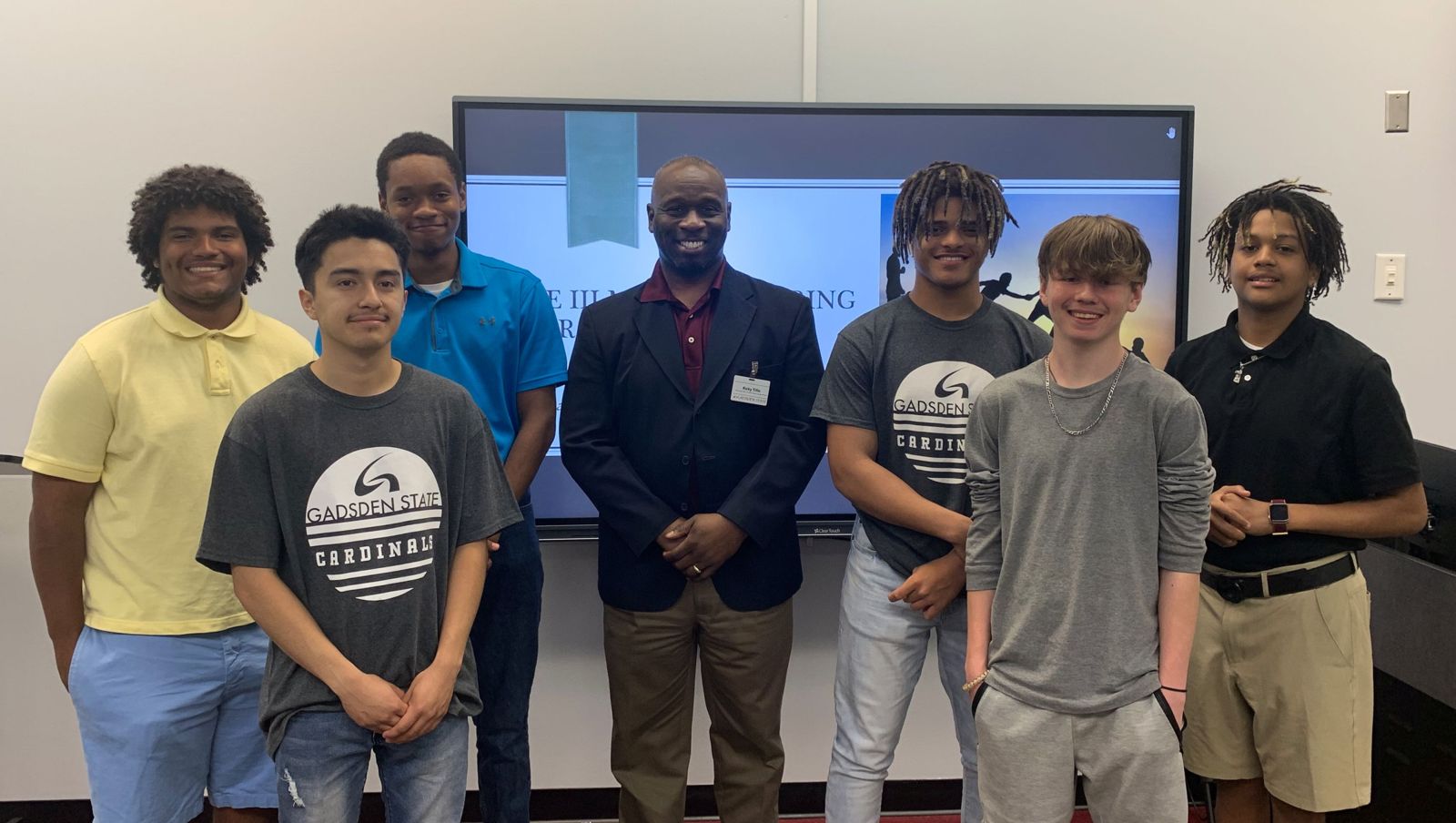 Program Advisor and Campus Director Ricky Tillis, middle, is pictured with an invited guest and five of the seven Etowah High School students who completed the Title III Mentoring Program. Pictured are, front from left, Victor Hernandez and Dakota Gilliam (guest); back from left, Drayton Gross, Marquan Mahome, D'Anthony Hale and Jatory Barnett. Not pictured are Jaleel Penn and Michael Tecero.