Latest News
---
05/14/19
Gadsden State to host camp for high school students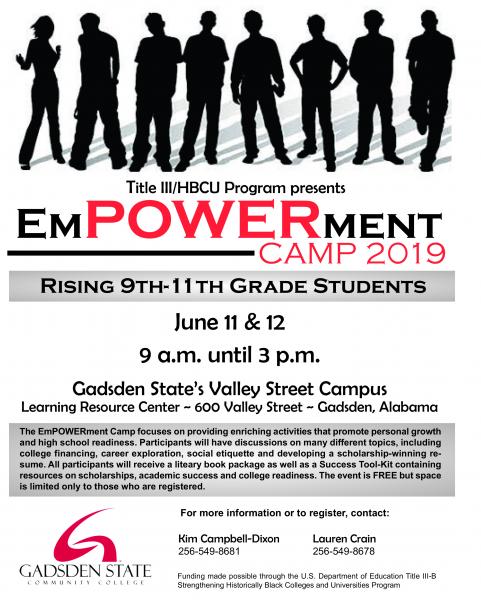 SIGN UP TODAY!
Area students can participate in enrichment activities offered during a two-day youth camp hosted on Gadsden State Community College's Valley Street Campus, the area's only Historically Black College and University campus. Empowerment Camp 2019 will take place from 9 a.m. to 3 p.m. June 11 and 12 in the Learning Resource Center at 600 Valley Street in Gadsden.
"Empowerment Camp 2019 focuses on providing activities that promote personal growth and high school readiness," said Kimberly Campbell-Dixon, camp coordinator. "We want these students to complete the camp feeling empowered with the knowledge and tools they can use to be successful in high school and in life."
On June 11, participants will have the opportunity to interact with speakers and presenters from Gadsden State, Gadsden City Schools, Family Success Center, Etowah County Extension Service, Gadsden Public Library and Family Savings Credit Union. Miss Preteen Alabama 2018 Zena Terry will also speak. Discussion topics will include college financing, career exploration, social etiquette, resume development, nutrition and technology.
Day 2 will include an arts/crafts segment and healthy relationship presentation. A Day 2 highlight is a trip to Gadsden State's Wallace Drive and East Broad campuses, where they will take part in a science organ system activity as well as the National Science Foundation's Advanced Technological Education Program, "Automating Alabama's Future: Producing Advanced Automation Technicians."
"This segment will explore robotics and 3D printing technology while emphasizing the many high-wage, high-demand engineering technology careers," Campbell-Dixon said.
Upon completion of the two-day program, every camper will be given a personalized Success Tool Kit, pad folio and template that can be used to build their resume as they progress through high school.
"This tool kit is designed to assist campers with tracking accomplishments critical to their college application process and subsequent employment," she said.
The tool kit tracks academic records, awards, community service activities, hobbies, workshops, organizations and networking contacts.
In addition to the Success Tool Kit, campers will receive a book package and resources designed to acquaint them with in-demand soft skills and money management skills.
"All resources were selected to promote sound financial and leadership habits that can transition into adulthood while promoting personal and career success," Campbell-Dixon said.