Latest News
---
02/28/19
Tunisian scholars attend Gadsden State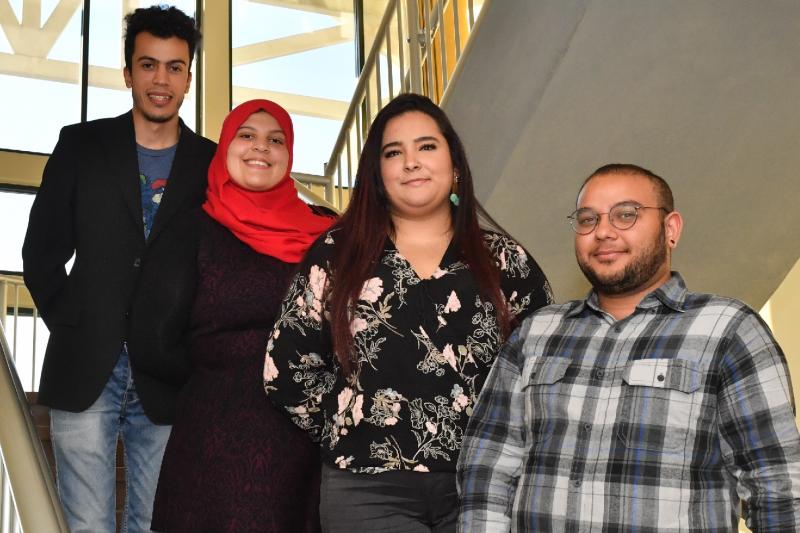 Traveling and studying abroad has provided unique cultural experiences and educational opportunities for a number of international students enrolled at Gadsden State Community College.
Four of them are taking full advantage of the benefits of Gadsden State as Thomas Jefferson Scholarship recipients from the U.S. Department of State.
The scholarship program builds the workforce and leadership skills of a diverse group of young community college students from across Tunisia. Through U.S.-based training, practical professional experience, community engagement and service learning, Tunisian youth gain the skills needed to contribute to economic and social development in their country.
Scholarship recipients include Malek Omri, 21, a computer science student; Afef Kharfia, 23, an Electronic Engineering Technology student; Achref "Ach" Mekni, 21, a Civil Engineering Technology student; and Rania Salem, 21, a Mechanical Design Technology student. All will receive short-term certificates from Gadsden State in May.
"The program focuses on how we can help the economic development of our country," Omri said. "We will then apply the skills we have learned when we return to Tunisia."
By interacting with Americans in the classroom and through community service, the scholarship program participants develop a broad and nuanced understanding of U.S. values.
"They are becoming citizen ambassadors and are creating links between Tunisians and Americans to increase cross-cultural understanding," said Faith Dobbs, the international programs specialist.
Approximately 6,000 students applied for the program but only 60 students were accepted after an application and interview process that included completion of the TOEFL exam, which measures their proficiency in the English language. Thirty-three students are in community colleges with the remaining 27 students at four-year universities. Over the past five years, 15 Thomas Jefferson Scholarship recipients have attended Gadsden State.
The students admit that they aren't at Gadsden State solely for technical training and academic education.
"It's also about self-development," said Kharfia. "There's a lot of self-discovery and community service. We want to work and make a change in the community. We are just willing to help."
They are not only active members of student organizations but they also hold leadership positions. Omri is the public relations officer for Students Without Borders, a club that promotes academic, social and cultural interaction among international and American students and members of the community. Kharfia serves as the club's secretary. Mekni and Salem serve as public relations representatives for Circle K, a service organization at Gadsden State.
In addition, the students have volunteered as mentors for the Robotics Club at Episcopal Day School as well as language mentors for the Arabic Club at Birmingham Southern College. Also, they have assisted in distributing food to local families in need through the Father's Heart Food Bank, and they have participated in the Leadership Summit hosted by the Church of the Highlands for international students.
"Meaningful engagement with their host community provides the cohort insight into the diversity of the U.S. and practical experience through community service," Dobbs said.
"Friendship families" are an important component to the program.
"Friendship families are the students' link to the community," she said. "They host students for meals and provide cultural experiences during their stay in Alabama."
Omri and Salem have friendship families from Meadowbrook Baptist Church while Mekni and Kharfia have families from Church of the Highlands.
"Everyone is very welcoming and so nice to us," Salem said. "We cook Tunisian food for them, and they like it so much. When we go somewhere, they always ask us to cook."
They agreed that they feel the Southern hospitality from their friendship families.
"They do care about us. You can feel it," Mekni said. "People are really interested in us as people, and they really understand the importance of global citizenship."
During their stay in the U.S., the students have taken full advantage of many travel opportunities to such places as Washington D.C., Atlanta and Las Vegas. During the Christmas holidays, they traveled to California to spend time with Dobbs' family members.
"Mrs. Dobbs is the best advisor," Kharfia said. "We'd be lost without her. I really appreciate all she does for us."
Dobbs said the program encourages the students to stay on top of their studies, build friendships and participate in college and community events.
"I always make sure I spend time with others," Salem said. "I prioritize because, to me, it's important to network and to participate."
"Studying without social skills is nothing," Omri added.
Socializing gives them the opportunity to practice their communication skills while being exposed to diverse populations.
"I always say that being here isn't all about formal education," Mekni said. "We have to be adaptable; flexible. We are gaining an education through everything we do inside and outside the classroom."