Latest News
---
02/06/19
Gadsden State hosts student success workshops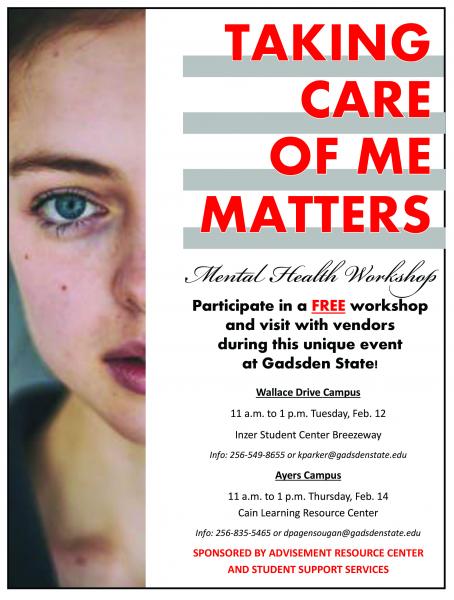 Gadsden State Community College is hosting free workshops focusing on mental health and student success. "Taking Care of Me Matters" will be from 11 a.m. to 1 p.m. Feb. 12 in the Inzer Student Center Breezeway on the Wallace Drive Campus and from 11 a.m. to 1 p.m. on Feb. 14 in the Cain Learning Resource Center on the Ayers Campus.
"It is our mission to provide the tools our students need to have a successful academic career," said Dana Davis, director of Advising at Gadsden State. "This workshop is designed to promote mental health wellness and awareness that will help students during their time at Gadsden State, in the workforce and in life."
Vendors from various agencies including Health Services, Quality of Life, Gadsden Regional Medical Center, Family Services, CED Mental Health Center, Family Success Center, Second Chance Domestic Violence Shelter and the Jacksonville State University Social Work Program will be on hand to provide information concerning access to counseling services, financial counseling, legal services, domestic violence and healthcare.
The workshops are sponsored by Student Support Services and the Advisement Resource Center. For more information, call 256-549-8655 or 256-835-5465.