Latest News
---
02/21/19
Mother earns her GED a decade after dropping out of high school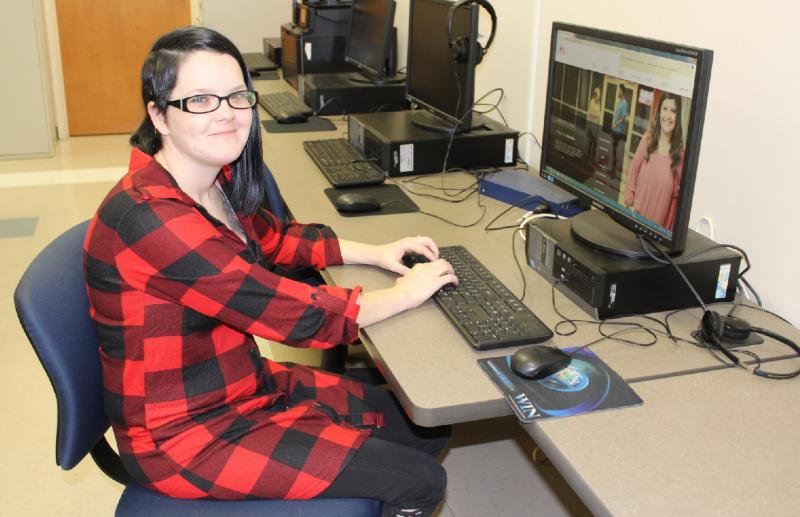 Stephanie Haynes is pictured in the GED classroom at the Cheaha Center on the Ayers Campus of Gadsden State Community College.
Stephanie Haynes had obstacles to overcome the moment she was brought into the world in 1992. Her mother tells her that she was not breathing when she was born and had to be revived. She also tells her that because of it, Haynes has learning disabilities that has made it hard for her to read and spell.
"I have never been technically diagnosed with having learning disabilities, but, after being told that your whole life, you start to believe it," she said.
Haynes, 26, of Munford has proven to herself that she's smarter than she ever thought. She has completed the requirements to receive her GED and will walk with over 40 other students at the Gadsden State Community College Adult Education Services graduation at 7 p.m. Feb. 25 at the Oxford Performing Arts Center.
"I have wanted to work for my GED for a long time," she said. "I just finally decided that now is a good time, and I did it!"
Earning her GED is a bright spot in a life full of struggle. When she was 7, she survived a serious dog attack that left scars on her face and limbs. Her parents divorced when she was young and both had jobs – he was in the military and she was a truck driver -- that required them to be away from her a lot.
"I was raised by different people, and I moved a lot," she said. "I lived in Florida, Kansas, New Mexico, Alabama. I've been to all 50 states."
When she was 14 and an eighth-grader in Oxford, Haynes became pregnant.
"I was young and dumb, and I really believed I was in love," she said. "I did stupid things most teenagers do. I was rebellious and made bad decisions."
By the time she was 15, she gave birth to her oldest child, Joshua, now 12.
"Having Joshua made me grow up a lot but I still had a lot of learning to do," she said.
Haynes went back to school but ended up dropping out at the end of her freshman year.
"I missed tests so I could go skateboarding," she said. "I failed miserably. I wasn't focused, but, to me, if you don't make mistakes, you're not learning."
Once again, Haynes thought she was in love and got married four days before her 16th birthday. She enrolled in school again but dropped out a month before the end of her sophomore year. Her marriage didn't last long either. After just a year and two months, the couple separated.
"My marriage was not a good one," she said. "Because of that relationship, I pushed all of my family away. I was 17, divorced and alone. I had no one."
While living with a friend, Haynes met her husband, Jonathan, a trucker who hauls parts for Honda.
"I knew he was the one for me, and my family did, too," she said. "We were together about a year-and-a-half when my mom came to us and said, 'I bought the wedding rings. Let's go to the courthouse.' That was eight years ago."
Soon, she gave birth to Coraline, now 7, and proved to be a good mother to her two children and her stepchildren, Dezi, 13, and Zander, 14.
My husband has always been the bread winner, and I've always taken care of my children and our home," she said. "I worked for a while at (a local restaurant) but I was only working to pay for childcare. We decided it would be best if I cared for the children instead of working outside the home."
Now, she spends four days a week as a volunteer at Munford Elementary School, where her children attend.
"I do anything and everything they ask me to," she said. "I make copies. I oversee a food program. I help with picture days and chaperone field trips. I do what they need, and it keeps me busy."
Haynes said the MES faculty and staff have always encouraged her to work towards her GED.
"They are so kind and supportive," she said. "I sent out 40 invitations for graduation. About six of them went to family members and the rest went to the faculty and staff at Munford Elementary."
Still, it wasn't an easy road for Haynes once she enrolled in GED classes. She struggled with math and had a few personal setbacks. In September, her daughter broke her elbow and required surgery at Children's Hospital of Alabama. Less than 24 hours after Coraline was released, Haynes had to take the social studies and science portions of the GED.
"I wasn't mentally prepared," she said. "I prayed to the Lord to give me strength. I really needed His help. I was stressed and scared."
Haynes passed the GED on Oct. 4, and it wasn't all divine intervention.
"I worked so hard and studied so much," she said. "I was so happy that I somehow passed. When I told my husband, it brought tears to his eyes. He was so proud of me."
For now, Haynes wants to get a license to be a substitute teacher, but she knows she eventually wants to further her education.
"I have proven to myself and to my family that I can do it," she said. "I know I want to eventually go back to college but, right now, I'm just taking it day-by-day. I don't want to be overwhelmed. I don't want to fail because success sure feels good."