Latest News
---
02/01/19
Alabama Power Foundation awards Good Roots Grant to Gadsden State
Alabama Power Foundation has donated $1,000 to Gadsden State Community College through the Good Roots Grant program to enhance a green space on the Wallace Drive Campus. The donation will be managed by the Cardinal Foundation, a support organization established to raise, manage, distribute and steward resources to support the mission of Gadsden State.
The project will be implemented by a team of faculty and staff members with a dream to create a green space for social purposes for students and a learning space for instructors. Dr. Teresa Rhea, dean of Enrollment and Retention, said the development of green space on Wallace Drive is the perfect addition to the other renovations and developments happening on campus.
"The funds will be used to purchase trees which will be planted in our green space between Bevill Hall and Beck Field House," she said. "And, the social benefits are as important as the environmental benefits. The green space will be in the heart of our Wallace Drive Campus.
"The effects will promote healthy living and social well-being which are essential to a student's educational journey. Exposure to natural environments can restore the student's ability to pay attention and reduce mental fatigue."
Gadsden State will begin planting the trees in February. There will be five trees, which will be planted according to the procedures prescribed by the National Arbor Day Foundation. The new green space will be in full service by the end of the spring semester.
The Alabama Power Foundation, in partnership with the Alabama Urban Forestry Association and the Alabama Forestry Commission, created the Good Roots Grant program to encourage projects that improve the quality of the environment in communities, towns and cities by planting more trees. Good Roots grants help keep locations like Gadsden State vibrant by supporting environmental projects.
"The Alabama Power Foundation is excited to give the Gadsden State Cardinal Foundation the funds to enhance the environment with trees for their green space project," said Steve Hildebrant, Alabama Power Co. liaison. "This project will not only visually enhance the campus for a positive learning environment, but it will improve the quality of life for everyone involved."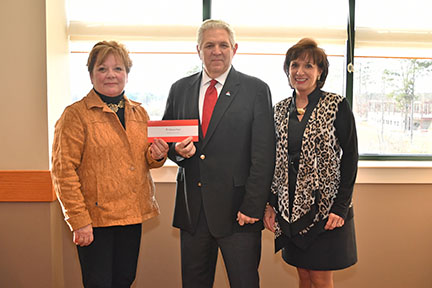 Dr. Teresa Rhea accepts the $1,000 check from Steve Hildebrant, with Dr. Martha Lavender's approval.