Latest News
---
07/22/19
Gadsden State graduate earns citizenship and continues life's new chapter
Few retirees embark on a second career after 20-plus years of working. Even fewer take that step as an immigrant in a foreign country. But, that's exactly what Somaya "Souma" Zakaria did after retiring from the U.S. Embassy in Cairo, Egypt, in September 2010.
"I made the decision to come to the U.S. not as a young fresh woman but as a middle-aged person," she said. "I just wanted to do something different. I retired and now what? Sit at home and do nothing? That's not me."
For 23 years, Zakaria rose through the ranks at the U.S. Embassy from an entry-level typist and clerk to a trainer for the U.S. Agency for International Development. As an embassy employee, she met George H.W. Bush, George W. Bush, Laura Bush, Hillary Clinton and Barack Obama.
"Laura Bush was very kind and spoke to all of us," she said. "President Obama spoke in Arabic telling everyone 'peace upon you.'"
Along with meeting American dignitaries, she also had opportunities that she didn't think possible as a young Egyptian woman. She was able to travel to Washington D.C. and New York City to attend professional development workshops and conferences. She often took her son, Rami, with her and exposed him to a culture that he grew to love.
"He loved America, and he's always wanted to live here," she said. "He had so much potential and knew he would be successful in the U.S."
As an adult, Rami moved to Los Angeles, where he now works as a business consultant for a financial institution. Eventually, his parents decided they, too, wanted to live the American dream. Zakaria sought guidance on moving to the U.S. by texting the many friends she met during her time at the Embassy. She eventually heard from Amr Fouda, a student she selected to attend Gadsden State through an international partnership program between the governments of Eygpt and the U.S.
"Through the U.S. Agency for International Development, I assisted Egyptians who were going to America for education and training," she said. "We sent many of them to study mechanics and business as well as improve their English skills at Gadsden State. That's how I met Amr."
When Fouda moved to Gadsden in 2008, he and Zakaria continued their friendship. He was willing to help her and her husband, Essam Raffat, plan the move to Alabama.
"He was very kind to help us find a place to live," she said. "We had no family, no friends. We were in a different culture. It wasn't easy. This was a very big step for us, and he was such a big help."
Though the help was appreciated, it did not lessen the misery she felt when she moved to Alabama in November 2013 as a stranger in a foreign land.
"We fought very hard for nine months trying to find jobs and trying to become acclimated to life in Gadsden," she said. "It felt nearly impossible to us."
Despite an impressive employment record in Egypt, Zakaria and her husband, who was an architect in his home country, could not find jobs. They decided to volunteer at the Gadsden Public Library doing data entry in order to get experience.
"We didn't have a car to get around, and we didn't have any friends," she said. "Volunteering at the library gave us an opportunity to get out of the house and meet new people. It also helped me get acquainted with the southern accent."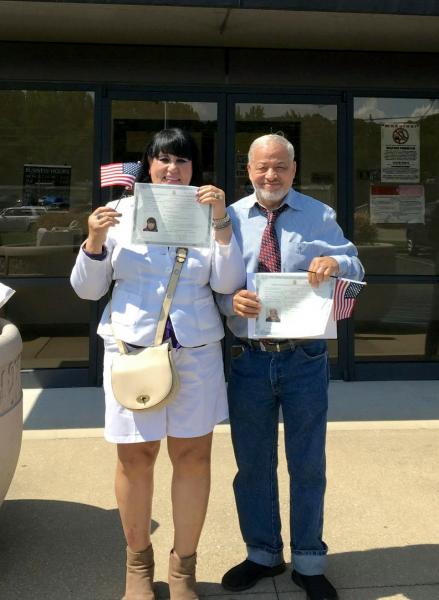 Souma Zakaria is pictured with her diploma from Gadsden State Community College and one of the two books she has authored in Arabic.
Eventually, Zakaria volunteered at Gadsden State, where she worked with faculty and staff in International Programs as an interpreter for Arabic-speaking students. She also shadowed the instructor teaching Arabic courses, and she helped organize the annual International Festival.
Still, she did not feel like she was living at her full potential so she and Essam returned to Egypt for almost six months.
"I knew I was at risk of losing my green card eligibility status," she said. "So, we decided that we would return to America and try harder. This time, we were more persistent."
Zakaria enrolled at Gadsden State and pursued a degree in child development. She couldn't believe she was 59 years old and was back in school again.
"In my culture, women retire in their 50s, stay at home and raise their grandchildren," she said. "Not me. I was starting all over again. I was starting a new chapter in my life."
The faculty and staff in International Programs as well as Student Support Services were instrumental in her becoming a successful student at Gadsden State.
"They helped me understand the educational system and the processes," she said. "There are so many good people at Gadsden State. My teachers were so wonderful. They went above and beyond for me, especially my advisor, Gwen Ford, who is my role model, mentor and friend. My Gadsden State education was a pleasure, challenging and fun."
In August 2018, she earned her associate degree in child development and applied to be a substitute teacher for the Gadsden City Schools and the Etowah County Schools.
"We don't have such a job in Egypt so I didn't even know substitute teaching was an option for me," she said. "It has been a great opportunity. I really love the job. Life has started to be beautiful to us."
Zakaria also provides interpretation assistance to those suffering from domestic violence and child abuse, and she is a member of the Interpreters and Translators Association of Alabama. Currently she is studying Spanish and also provides assistance to Spanish-speaking students in the county's school systems.
"As a substitute teacher, a child development professional and an interpreter, I am helping children," she said. "I feel so proud that I can take a hand of a child and make a contribution to that child's life. I feel proud of myself and of my journey in life."
Things have looked up for Raffat as well. He now works on engineering projects in manufacturing facilities.
"He's hard working with a lot of ambition," she said. "He's a big supporter of me and I appreciate him so much."
On July 10, Zakaria and Raffat took the oath of citizenship.
"I am proud to be an American citizen who respects the law and allegiances to the United States," she said. "Being an American citizen is not the end of the road but the beginning of a new journey with more learning and helping as well as acceptance and love for others."
Zakaria, who has authored two books written in Arabic, shares her experiences in Gadsden on social media for other Middle Eastern people to read.
"Education is key for economic development, so I try to reflect everything I see and experience that's positive," she said. "I think it can change people's way of thinking and the way they manage their lives. I think that's why it's important for me to write about what's happening to us as new citizens in a country that was once so foreign to us."
Zakaria said no one can find the wonderful opportunities that allow people to "start over" – except in the U.S.
"I moved from my comfort zone when I came to America," she said. "I had a comfortable life in Egypt. I didn't have to work. I could just do what I wanted to do, but I needed to continue to challenge myself. I have proved to myself that I'm brave; that I'm confident; that I can start whatever I want to whenever I want to. It has been a wonderful learning experience."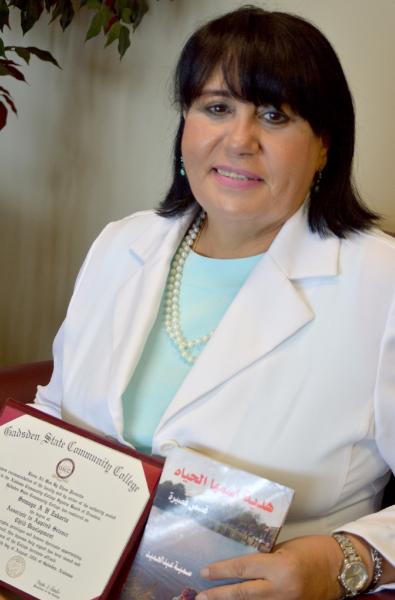 Souma Zakaria and her husband, Essam Raffat, recently received their American citizenship.