Latest News
---
07/11/19
Gadsden State's Ayers Campus hosts Girls Rock Robotics Camp
Gadsden State Community College hosted a girls-only robotics camp July 10-11 at the Ayers Campus. The Girls Rock Robotics Camp was funded by the National Science Foundation.
"It's so important to expose girls to robotics and other STEM-related fields," said Audrey Webb, electronics engineering technology instructor at the Ayers Campus. "Through camps like this, we are encouraging them and nurturing them to be problem solvers, innovators and contributors in science, technology, engineering and math."
According to the NSF Science and Engineering Indicators, females make up half of the total U.S. college-educated workforce but only 29 percent of the science and engineering workforce.
"That is a compelling statistic," Webb said. "It's up to us as educators to offer opportunities to our young female students in an effort to bring up gender equity in STEM."
Sixth- through ninth-graders participated in the Girls Rock Robotics Camp. Each of the 14 participants were able to build and program their own robot.
"We all had different ideas for our robot," said Nadiyah Haynes, a sixth-grader from Alexandria Middle School. "We could add music to the robot. We could dance with the robot. We could just play with it. It was a lot of fun."
Sukanya Spaulding, who will be in the eighth grade at Sacred Heart Catholic School this fall, said she enjoyed the challenge of building a robot.
"It could be confusing with all the wires but we were able to build our robots," she said. "Seeing what makes up a robot was really cool – the wires, the motherboard. I realized a lot of stuff has to go into a robot. We would build the robot and then break it down just to rebuild it."

Tarryn Woodall, left, controls her robot during a soccer match with a robot built by a fellow participant in the Girls Rock Robotics Camp.
The girls-only STEM camp was fully funded by the National Science Foundation
In addition to learning to code, program and build a robot, camp participants took a tour of the Ayers Campus, where they were exposed to a number of career technical programs.
"I really enjoyed going to the Welding shop," Spaulding said. "The 3-D printer in Drafting and Design was so cool. I loved seeing designs brought to life. It was like the teacher was a sorcerer."
In the end, the robots competed in a soccer game and danced with their makers.
"We have had such a great time," said Piper Price, an eighth-grader at White Plains Middle School, where she is a member of the robotics team. "We enjoyed the competition, and we enjoyed working together. I've met a lot of great people and made new friends."
But the best thing was exploring STEM at a camp with other girls.
"A lot of people stereotype robotics as an 'all-guys thing,'" Spaulding said. "This camp of all girls is breaking that stereotype. Yes, girls do actually like robotics. Robotics can be enjoyed by all people."
For more information on STEM-related career tech programs offered at Gadsden State, visit www.gadsdenstate.edu/technical.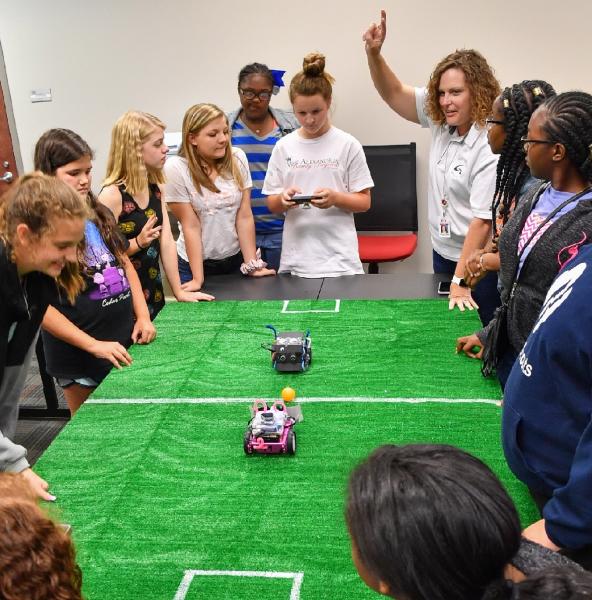 Audrey Webb, top right corner, officiates a "soccer game" between robots built by participants at the Girls Rock Robotics Camp.
Webb, an electronics engineering technology instructor at Gadsden State, said it's important to inspire girls to pursue STEM-related fields.