Latest News
---
10/17/19
FAME program implemented to fill industry employment needs
Gadsden, Ala. – Wesley Thornton is learning in an apprenticeship-style training program that provides working experience as well as training in a classroom and lab setting at Gadsden State Community College.
The new, innovative program is Alabama Federation for Advanced Manufacturing Education, better known as Alabama FAME, and is a partnership with East AlabamaWorks.
"The program is filling the need local industry has for more trained multi-skilled workers in advanced manufacturing," said Lisa Morales, director of East AlabamaWorks.
Thornton, 26, works 24 hours a week at Koller-Craft South in Gadsden and spends two days a week at Gadsden State through the FAME program. He is one of 16 students selected for the first FAME class at Gadsden State. The seven companies participating in FAME pay the students a minimum of $12 per hour during their workdays.
"We are providing Wesley with on-the-job training," said Shaughan Moore, plant manager at Koller-Craft. "It's real-world application. Learning in a classroom is so valuable but actually putting a tool in their hand is a game-changer."
After high school graduation, Thornton did not intend on going into a technical field. He enrolled at Gadsden State and eventually earned an associate degree in general studies. He considered careers in accounting and computer science.
"I decided that I didn't want to do office work, and I didn't want to go to a four-year college because it's too expensive," he said. "My accounting teacher, John Sudduth, told me about the FAME program. He knew I would love it, and he was right. I quickly realized that more people need to consider technical careers. Trades are needed so much this day and age. I know people who can't get a job or are under-employed with their four-year college degree because their training isn't needed in today's workforce."
Thornton started working at Koller-Craft in August as a maintenance technician. He said he has found his niche.
"I take pride in what I do," he said. "I'm proud to work for Koller-Craft, and I am proud to go to Gadsden State. I work hard. I have a great work ethic that has been inherited from my family. I have natural skills that have been passed on to me. Everyone in my family is a mechanic or is in some sort of trade."
Carol Gilliland, the director of Human Resources at Koller-Craft, said Thornton has been a great addition to the team.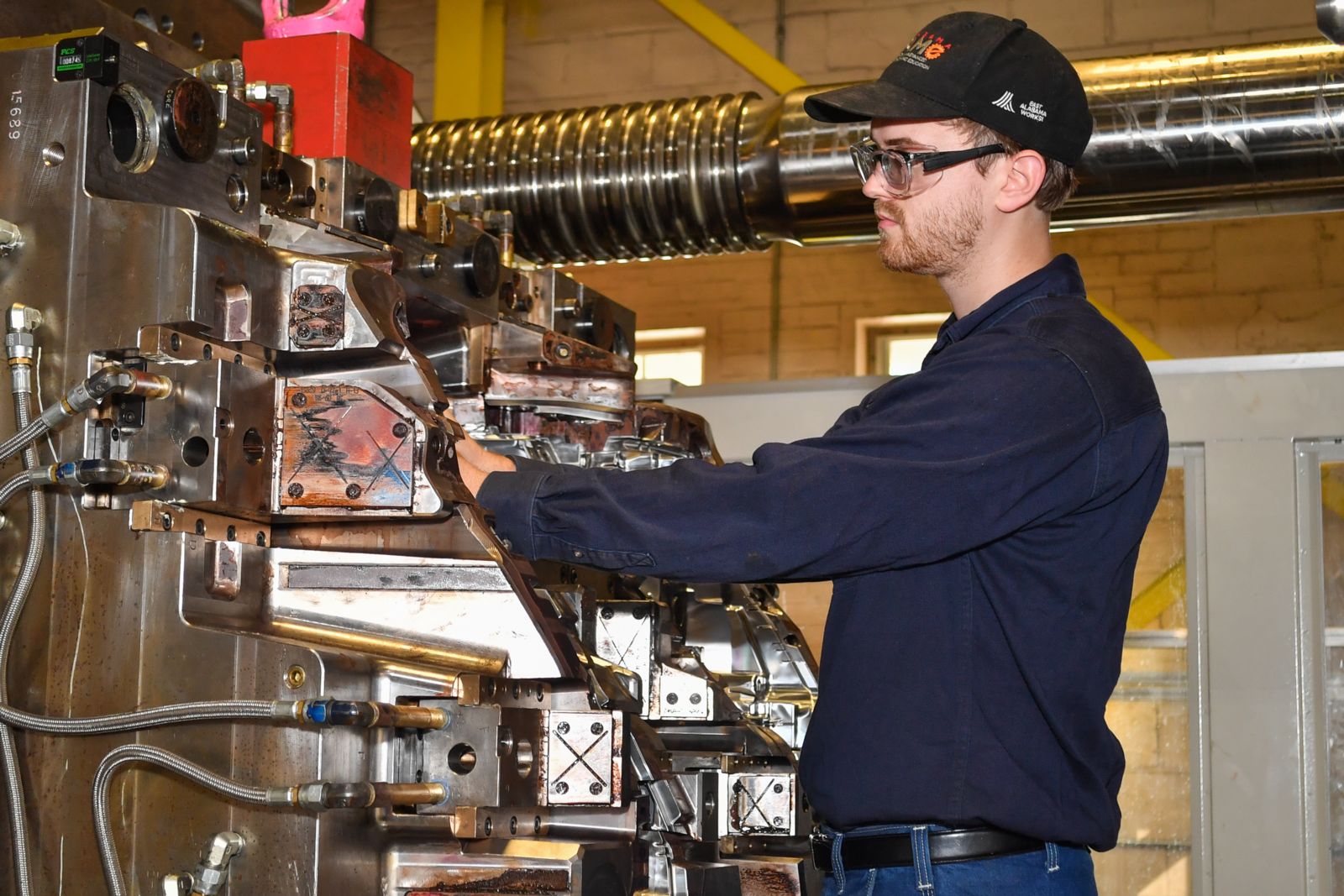 Wesley Thornton is among the first class of FAME students at Gadsden State Community College. He participates in the apprentice-style program at Koller-Craft South in Gadsden.
"He's like a sponge," she said. "He has caught on to everything very quickly. He's very committed to the work he's doing."
Moore is impressed with him as well.
"Wesley is talking the talk and walking the walk," he said. "It's so nice to see that he is so engaged in being prepared for the workforce."
At Gadsden State, the students work towards an Associate in Applied Science in Industrial Automation Technology. They learn about lean manufacturing, engineering technologies, electrical blueprint reading, wiring methods, fundamentals of industrial hydraulics and pneumatics and preventive maintenance as well as principles in industrial mechanics, industrial pumps, piping systems, industrial maintenance welding and cutting techniques.
"The FAME program is making sure we are the global best," Thornton said. "The program is branching out across the country. Soon, companies are going to only want INT students from community colleges."
Gilliland said the team at Koller-Craft is happy to be a part of the FAME program.
"It's important to Koller-Craft to promote our young people and build our workforce," she said. "Gadsden State has been great to help us find employees that are trained. FAME has been perfect for us.
"I'd love to see more companies in Etowah County become a part of the FAME program," she said. "It's good for the student, and it's good for the company. It's definitely a win-win."
For more information about the FAME program, call Pamela Brady at 256.549.8605 or pbrady@gadsdenstate.edu.