Latest News
---
05/06/20
Completion of Census 2020 important for federally-funded programs in Etowah County
Gadsden, Ala. – The Complete Count Committee in Etowah County remind all residents about the importance of participating in Census 2020.
"The momentum of Census participation has slowed during the country's attempt to curb the spread of the COVID-19 virus," said Johnny Baker, co-chairman of the local committee and director of adult education at Gadsden State Community College. "We can't stop now. We all need to be a part of democracy. It is a simple civic duty to ensure that you and those who reside with you are being counted."
Joining Baker as co-chairs are Heather Brothers New, president of The Chamber of Gadsden/Etowah, and Craig Scott, director of the Gadsden Public Library System. They have been notified that Etowah County has a 59.2 percent participation rate so far.
"We are pleased that Etowah County's participation percentage is above the national average of 57.3 percent and above the state percentage of 55.4 percent but we still have a long way to go," Baker said.
Southside has the highest municipal participation rate in Etowah County with 73.3 percent compared to Gadsden's 53.4 percent. Participation percentages for neighboring counties are 57.5 percent in Calhoun, 50.6 percent in Cleburne and 38.3 percent in Cherokee.
"When the Census was conducted in 2010, 72 percent of Alabamians participated," he said. "If we see that participation percentage decrease in 2020, we are risking a potential congressional seat as well as over $13 billion in federal funding. That's approximately $1,600 per person in Alabama."
Census data drives funding that is used for assistance programs that support children, education, health care, rural development and more. "Completing the Census will ensure that our state and communities will receive our fair share of funding," he said.
A few of the programs in Alabama supported by federal dollars include school lunch programs, Medicaid, Supplemental Nutrition Program for Women, Infants and Children, Section 8 housing, community services block grants and dislocated worker grants.
"If the funding for those services and programs is not reallocated by the federal government due to low census participation, our local and state governments will have to find the money elsewhere or discontinue important programs," Baker said.
The Alabama Counts Committee previously reported that the state is at risk of losing a congressional seat due to projected slow growth.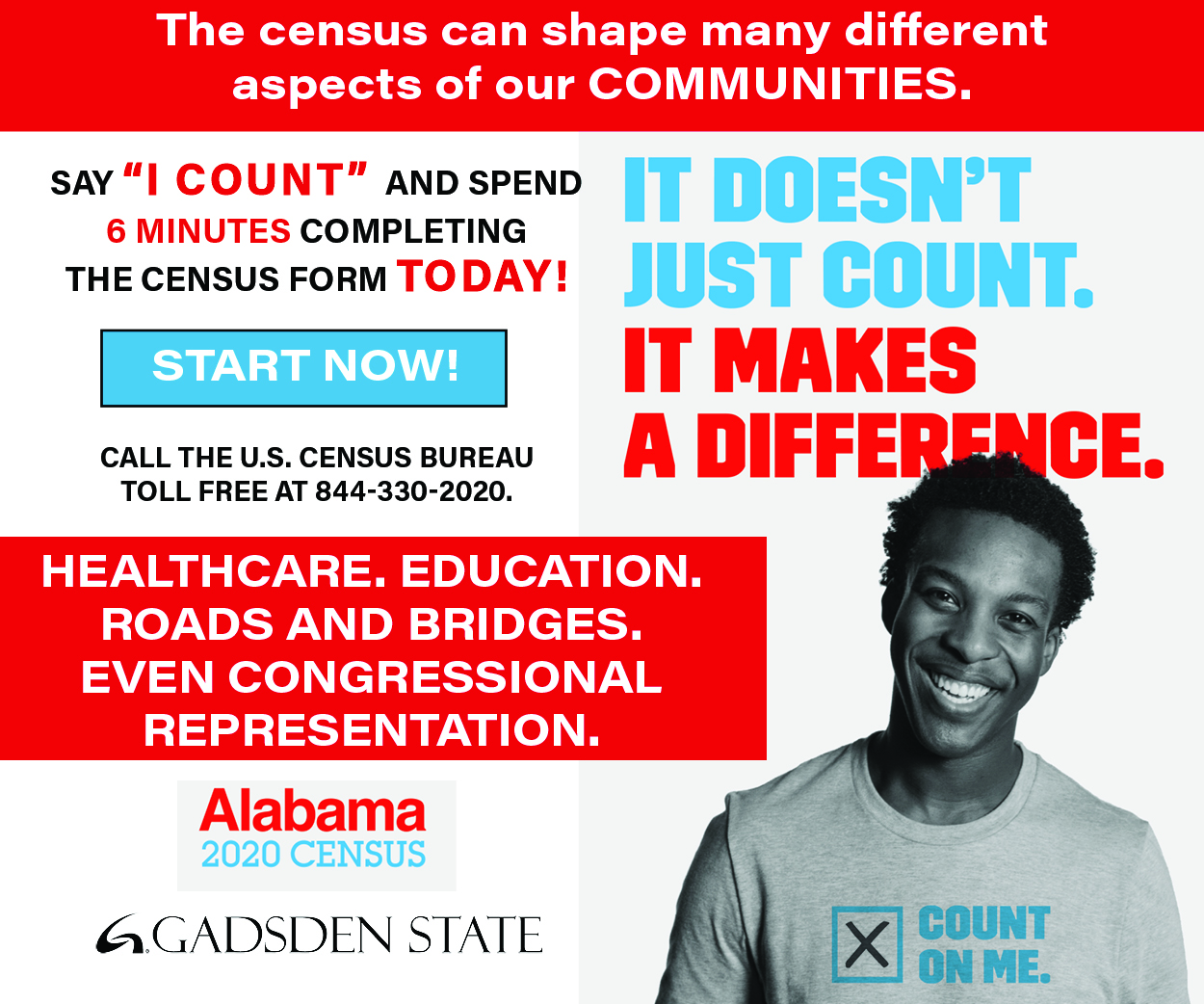 Census packets were mailed to Alabama homes in mid-March. The form has 10 questions and typically takes six minutes or less to complete. Residents are encouraged to complete the form and mail it. The form can also be completed online via computer or smartphone at my2020census.gov. Residents can also call 844-330-2020 to complete the form over the phone with a Census Bureau employee or they can request a packet be mailed to their home.
"The details you submit through the Census are private and will not be used against you and will not be used for any other purpose," Baker said. "It is strictly against the law for any of your information to be shared with or used by another agency."
He said he hopes the reassurance of confidentiality will encourage maximum participation.
"I want everyone to take the time to complete the Census form," he said. "Be counted. Show that Alabama counts through your participation in the Census."
The deadline to complete the Census form is Oct. 31. Census takers will conduct nonresponse follow-ups beginning Aug. 11. For more information about Census 2020, go to census.alabama.gov.
###