Latest News
---
02/18/20
Gadsden State to host annual International Festival
Gadsden, Ala. — Gadsden State Community College is home to the Alabama Language Institute and a renowned international program that attracts almost 100 students from around the world to gain an education, learn the English language and experience a new culture. The 42nd annual International Festival will be from 4 p.m. to 8 p.m. Feb. 28 at the Wallace Hall Fine Arts Center in celebration of the array of countries represented at Gadsden State.
"We hope people will take this opportunity to come to Gadsden State to learn more about our students' native countries and to build relationships within our community," said Becky Duckett, director of international programs.
As is the tradition, international students will create country displays that will showcase the great aspects of their home countries. Gadsden State has 94 internationally-born students from 30 countries.
"We will have displays from the Bahrain, Brazil, China, Japan, Jordan, Kenya, South Korea, Syria, Turkey, Yemen and more," she said. "Our students have a lot to share with our community about their countries."
International Festival participants can tour the country displays and enjoy food from three unique food trucks from 4 p.m. to 6 p.m. Food trucks include Maggie's Farm, serving southern fare such as a smoked bologna sandwich, pulled pork nachos and chili; The Jamaican Jerk, which specializes in different types of kabobs as well as an oxtail bowl and vegan black-eyed pea patties; and La Herradura Taqueria, providing tacos, burritos and tortas with a variety of meats to choose from. There is a charge for food.
There will be displays featuring 19 countries at the International Festival. The event is free and open to the public.
At 6:15 p.m., the program will start with the Parade of Nations inside the Wallace Hall Fine Arts Center followed by greetings from Dr. Martha Lavender, president of Gadsden State. Student performers will take the stage to showcase song, music and dance from their countries. Some of the performers include:
Maira de Melo Rodvalho Oliveira from Brazil will play the guitar and sing "Girl from Ipanema."
Ashton Gray, a Gadsden resident, and Michelle Cardenas Chacon, a student from Colombia, will dance a salsa that tells the history of slavery in Colombia.
Jiho Song from South Korea will perform a traditional Korean folk song on the piano.
A group of students from multiple African countries will perform a native dance.
The hosts of the International Festival are Malek Omri from Tunisia and Florence Obiageli Omu from Nigeria. Like many of Gadsden State's international students, Omu learned about the College after her brother, Henry, enrolled in 2016.
"Because of my brother, my parents were familiar with Gadsden State, so they felt comfortable sending me here," she said. "I chose Gadsden State because I wanted to have the college experience in America before going to a four-year university."
Omu's village is Onicha-Ugbo located in Delta State, an oil and agricultural producing state in Nigeria. Her mother works as the vice principal at a high school, and her father is a chief in her village as well as an attorney. During the school year, Omu attended Chrisland College Idimu, a boarding school located in the capital city of Lagos.
"We don't have public schools that are as good as the public schools in America," she said. "People have to work really hard to be able to put their kids in a good private school."
The last Sunday of every month, her parents would visit her at her boarding school, which is located two hours from her home. During the holidays, her father always insisted that she return to her village.
"He always wants us to come to our village so we stay connected to our culture and to our roots," she said.
Omu came to Gadsden State in August 2018 and is studying computer science. She hopes to transfer to Georgia Institute of Technology with dreams of doing business intelligence development as a data engineer.
"Once I complete my education, I intend to return to Nigeria to help improve its educational system," she said. "I want to help students get an education at good schools. Everyone around the world deserves a good education."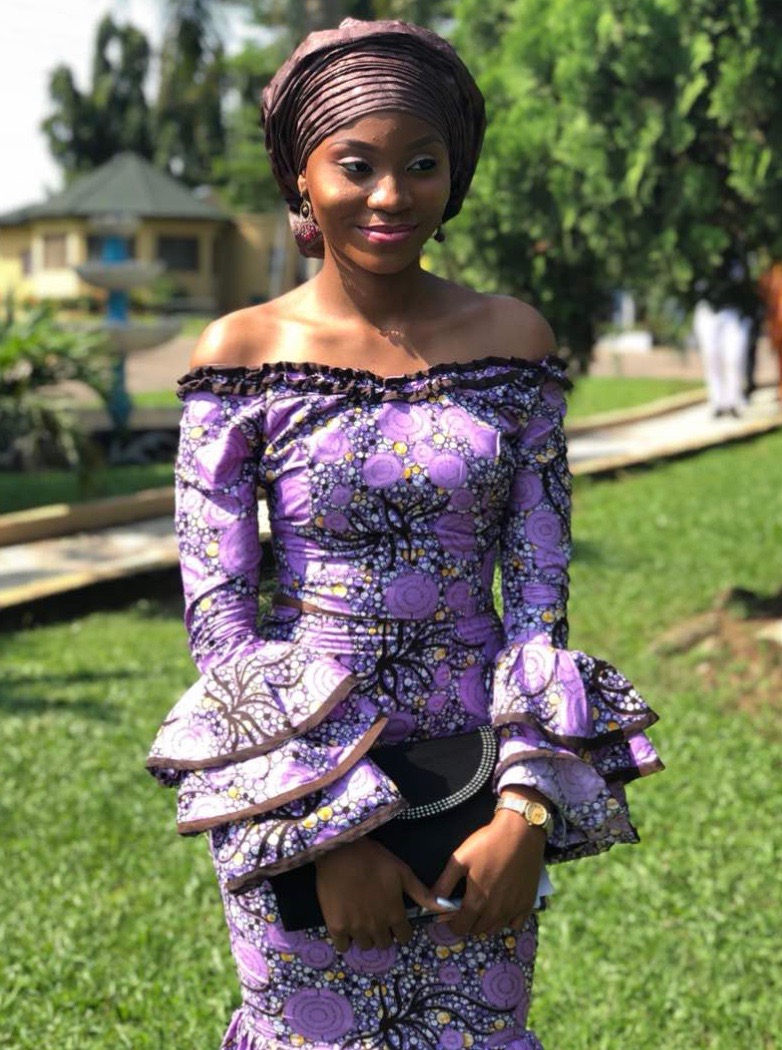 Florence Obiageli Omu is pictured in a traditional Nigerian dress during Love Feast, an event where students are blessed with prayers and gifts, at her boarding school in Nigeria.
Omu, who lives in Fowler Residence Hall with 24 other international students, serves as vice president of public relations for Phi Theta Kappa Honors Society and public relations officer for Students Without Borders. She is also a member of the Circle K service organization and the Student Government Association.
"I'm glad I'm at Gadsden State," she said. "The city is smaller, quieter than Lagos. I'm able to really focus on my education without distraction. Gadsden State is such a nice place to start my educational journey."
For more information about the International Festival, call 256-549-8438 or visit them on Facebook at www.facebook.com/GSCCInternationalPrograms.
Pictured on homepage: Florence Obiageli Omu, left, is pictured with her classmates during Love Feast at Chrisland College Idimu, a boarding school in Nigeria. Love Feast is an event where students are blessed with prayers and gifts.