Latest News
---
09/29/21
Gaston High student earns Cardinal Foundation Scholarship
Gadsden, Ala. — Ke'Sean Ronell Williams has been awarded a scholarship from the Cardinal Foundation, a support organization of Gadsden State Community College.
The Boys and Girls Club Scholarship provides funds to selected students from the Boys and Girls Club of Gadsden/Etowah County to attend Gadsden State. Williams is using the $1,500 scholarship to pay for his ACE Institute classes held on his high school campus. ACE Institute is Gadsden State's dual-enrollment program.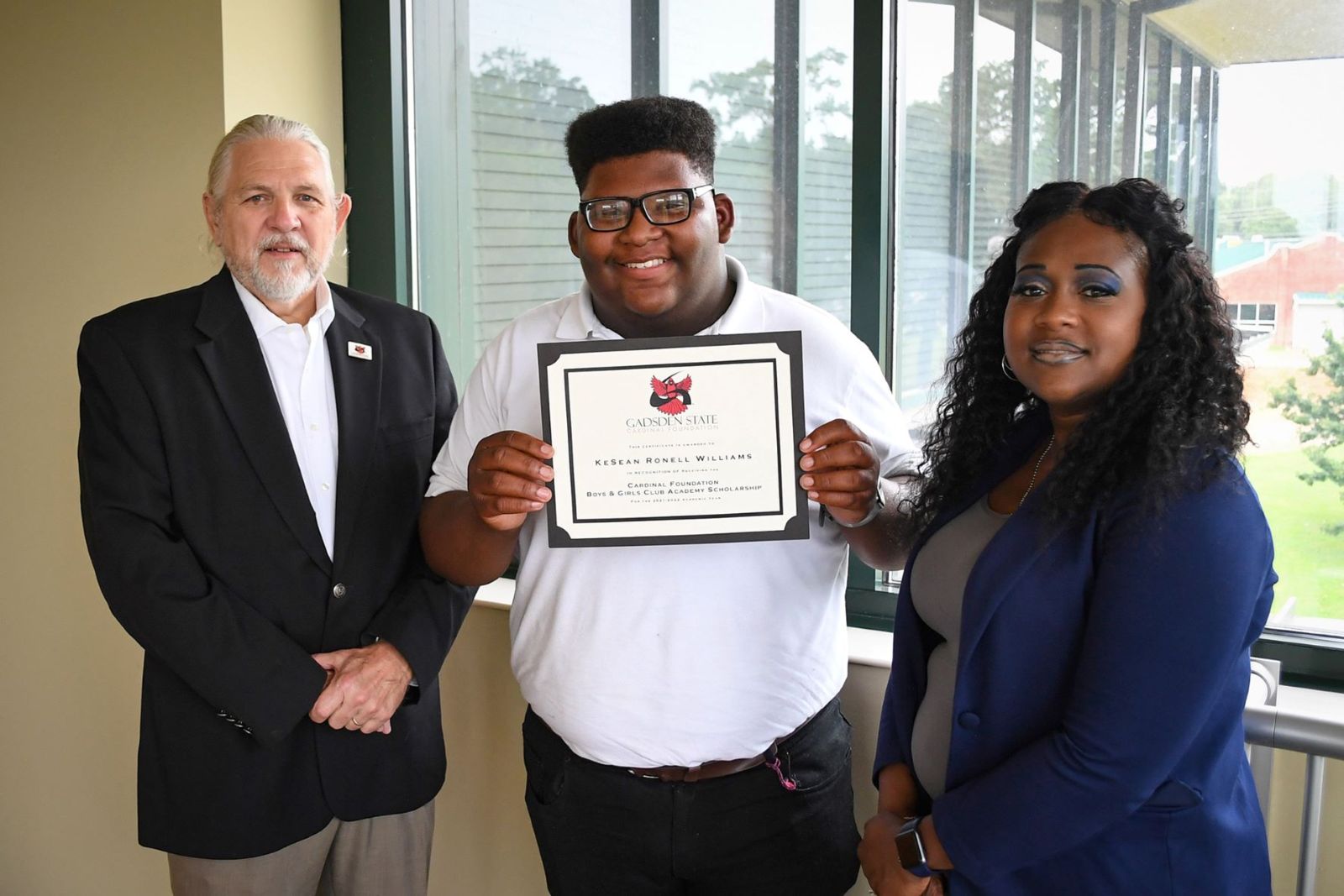 Ke'Sean Ronell Williams, middle, is pictured with Steve Hildebrant, past president of the Cardinal Foundation, and Dorothea Rhodes, chief executive officer of the Boys and Girls Club.
"Because of the scholarship, I am able to pay for the tuition and fees for my history and English classes through Gadsden State," he said. "I'm so grateful for the scholarship."
Williams has been a member of the Boys and Girls Club for many years. He is a member of the Junior Staff and the Keystone Club, and he was the runner-up for Youth of the Year.
He is a senior at Gaston High School, where he is involved in many extracurricular activities, including Senior Peer Helper; president of the Key Club; chaplain of the Student Government Association; secretary for the Senior Class; and a member of the Fellowship of Christian Athletes. He also plays the trombone in the marching band and was Gaston High School's representative at Boys State at the University of Alabama.
Williams' career goal is to become a high school English teacher just like his favorite teacher, Jennifer McGriff at Gaston High.
"She has made such an impact on me that I want to be just like her," he said. "When my brother had a wreck in 2019, she was there for me. She has always inspired me. I want to create a safe, encouraging environment for young people like Mrs. McGriff does for her students."
Cardinal Foundation Board President Mark Condra said he is proud that the foundation continues to provide a pipeline for members of the Boys and Girls Club – like Williams – to attend Gadsden State.
"Ke'Sean is the third member of the Boys and Girls Club of Gadsden/Etowah County to receive this scholarship," he said. "He is a remarkable young man that has the dream of becoming an English teacher, and we are hoping this will help him fulfil his dream. We are proud of him and can't wait to watch him soar."
Williams said good things, like scholarships, come to those with positive attitudes.
"Stop saying 'if,' and start saying, 'when,'" he said. "When you start saying 'when this happens,' you'll start seeing wonderful, positive things happen in your life. Always have a positive attitude; a positive outlook. Always say 'when.'"
For more information on supporting the Cardinal Foundation, visit www.gadsdenstate.edu/cardinalfoundation.