Latest News
---
05/04/22
Mental Health Conference for high school students to be hosted at Gadsden State
Gadsden, Ala. — Gadsden State Community College is partnering with Etowah County Schools, Gadsden City Schools and Attalla City Schools to host the first Gadsden/Etowah County Area High School Mental Health Conference on May 6 at the Science Building on the East Broad Campus.
"Teenagers need to be aware of their mental health, and they need to know how to take personal responsibility for their care and wellness," said Dr. Farrah Hayes, conference organizer and dean of Academic Programs and Services at Gadsden State. "Those who have poor mental health may struggle with social situations, relationships, grades and their overall health. This conference is designed to give them resources that will help them understand symptoms as well as treatment options."
The Mental Health Conference will include a morning session for students in various grades attending high school in the Etowah County Schools and Westbrook Christian School. The afternoon session is for Gadsden City High School and Etowah High School students.
"The students have the opportunity to select two sessions from 11 options," she said. "We want to make sure we are providing them with information they are interested in and that they'll find useful and informative."
Session topics include divorce, substance abuse, grief and loss, anxiety, how to discuss differences, social media, stress and balancing school, time management and self-discipline, coping skills, self-care and generational differences. Presenters from Gadsden State include Dr. Billy Jenkins, Dr. Dana Davis, Dr. Jessica Sparks Howell and Dr. Derrick Griffey. Other presenters include Anjuli Thompson from House Counseling; Mary Anna Dill from The Bridge; Jennifer Engle from Lighthouse Counseling Services and Brooklyn Harringston from Brooksbend Counseling.
Following the two sessions of their choice, the students will come together for plenary sessions. The morning plenary speaker is Jocelyn Woolfork, the Etowah County coordinator of CED Mental Health. Cassie Shields, a mental health advocate and former director of the Alcohol and Substance Abuse Council of Cherokee, will speak during the afternoon session. They will speak on the importance of mental health awareness as teenagers transition through high school and into college.
The conference will also include representatives from the YMCA of the Coosa Valley, CED Mental Health Center, Coosa Behavioral Services and Gadsden Regional Medical Center. They will provide information to students regarding mental health awareness.
"We are excited that we are able to provide such valuable information from mental health professionals and educators to approximately 300 area high school students," Hayes said. "May is Mental Health Awareness Month so there's no better time than now to host this worthwhile event."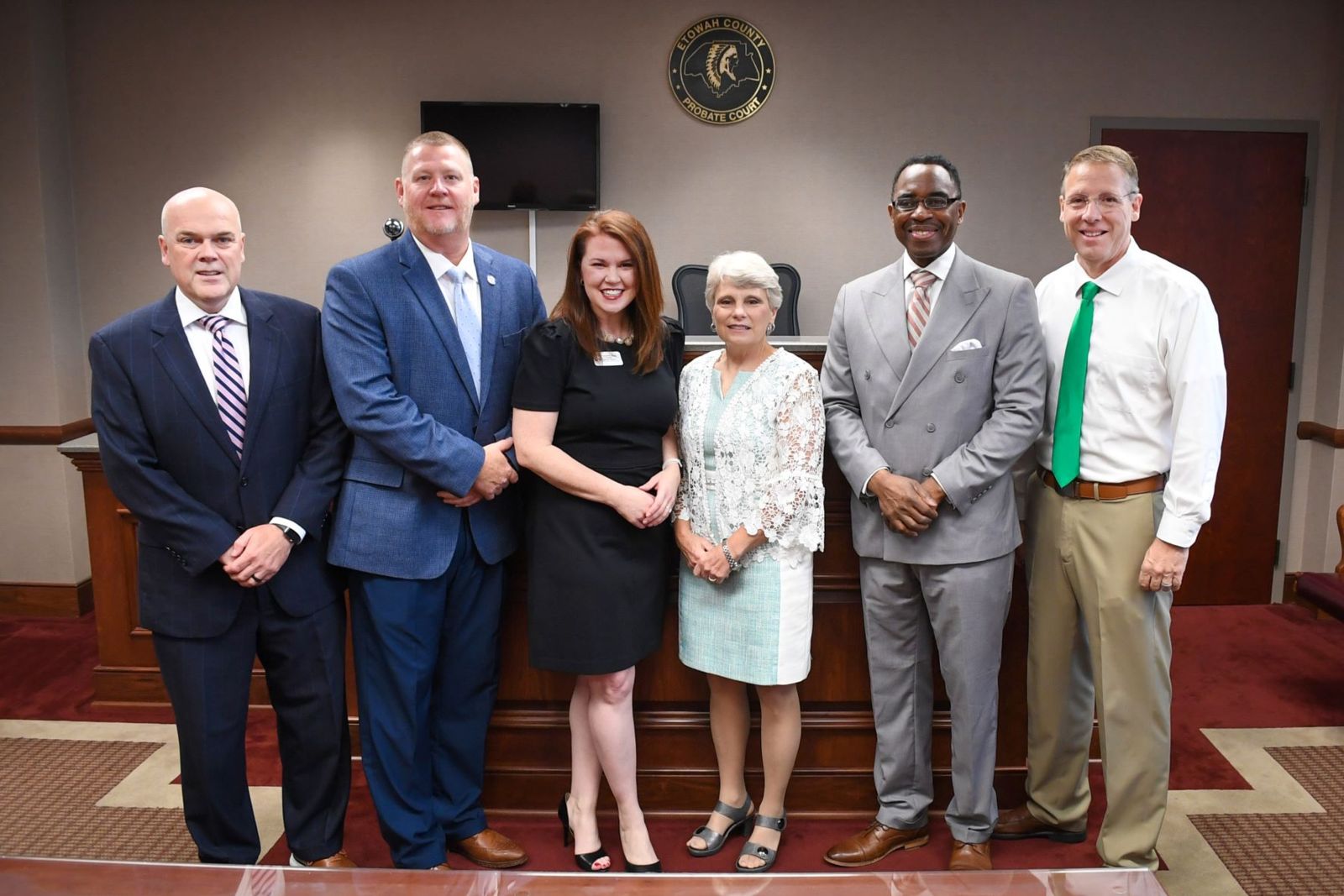 Dr. Farrah Hayes, center, and Dr. Kathy Murphy, both from Gadsden State Community College, partnered with, from left, Dr. Alan Cosby, superintendent of Etowah County Schools; Jeff Colegrove, superintendent of Attalla City Schools; Tony Reddick, superintendent of Gadsden City Schools; and Probate Judge Scott Hassell for the upcoming Mental Health Awareness Conference scheduled for Friday at Gadsden State.