Latest News
---
10/05/22
Women in Manufacturing: Hollie Bonds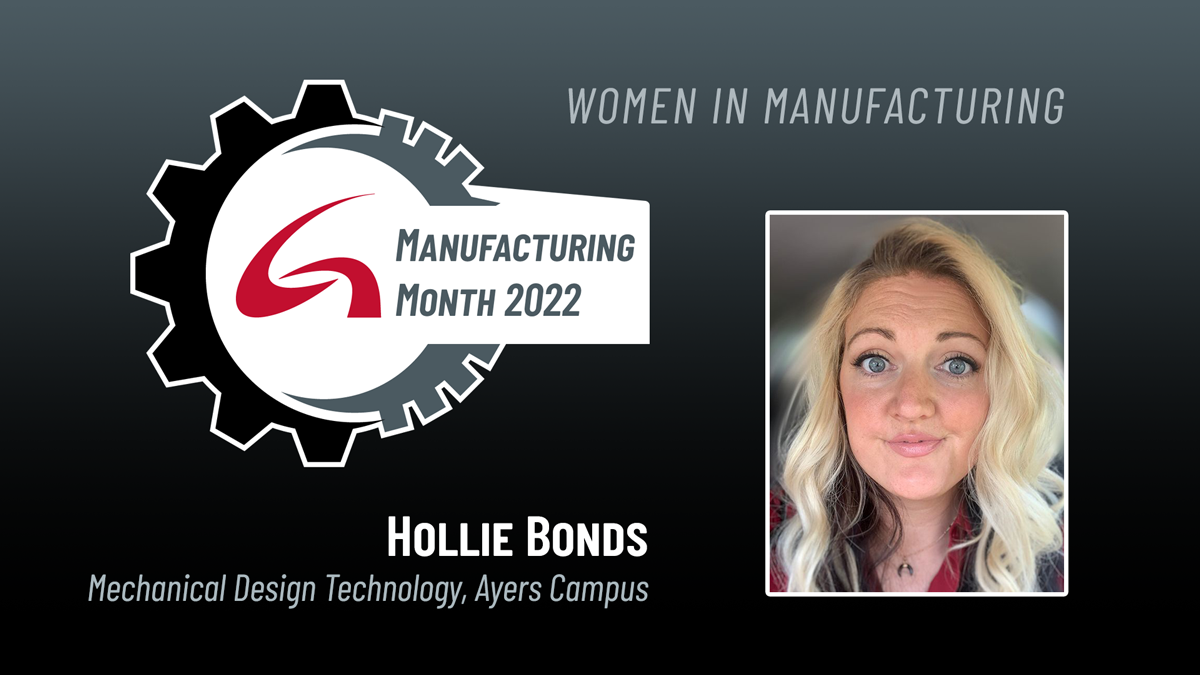 Hollie Bonds
Mechanical Design Technology at the Ayers Campus
Education: Earned an associate degree in Mechanical Design Technology from Gadsden State Community College and received certification as an Advanced IRC5 Robot Programmer in the Alabama Robotics Technology Program
Manufacturing Experience: Has worked as a manufacturing engineer at Inteva; a pattern designer and Machine Shop supervisor at Tyler Union Foundry; and a check fixture designer at Prominent Fixture and Gauge.
---
Her Story
Hollie grew up the oldest of two girls, raised by a father that hung iron for a living. She always knew she wanted to be just like her dad. Bu, her father did not want her to go into the iron industry.
"He wanted better for me," she said. "He encouraged me to find a way to do what I love in a less harsh environment."
At a young age, Bonds realized that little details came easy to her, and she was very good at math and problem-solving. After taking a tour of the county trade school in high school, she knew she wanted to enroll.
"I had found my career path but there were several warnings about trade school from family and friends," she said. "They'd say 'trade school isn't for women' and 'that's where the bad kids go.'"
Bonds did not waiver. She knew that Drafting and Design was the direction she wanted to go, and by the time she graduated, she had completed six semesters in the trade. She then enrolled in Gadsden State Community College's Mechanical Design Technology Program. She also took some Precision Machining Classes to sharpen her skills.
"As soon as I completed the program, I dove head first into the industry," she said.
Bonds worked as a check fixture designer, a pattern designer and a machine shop supervisor before taking a year to teach VEX robotics at a private school for children who were wards of the state. Due to funding, the program closed and she returned to manufacturing for eight years as an engineer.
"It was during those eight years that I learned how to program robots, program PLCs, troubleshoot big problems and constantly embrace continuous improvement," she said.
Bonds said she has never been one to be afraid of getting her hands dirty.
"I'm the one running wires under the house, installing new light fixtures and even changing my own oil," she said. "I have been fortunate to have so many willing to teach me and have always felt respected and valued in a male-dominated filed."
On Jan. 10, 2022, Bonds returned to teaching as the Mechanical Design Technology instructor on the Ayers Campus. In her new role, she continues to encourage women to learn a trade.
"It changed my life and now I have an opportunity to teach women and watch it change their lives," she said.