Latest News
---
10/13/22
Area educators participate in fourth EQWIP
Gadsden, Ala. – For the fourth year, area educators were given the opportunity to learn more about local career opportunities and technical training programs through the Etowah Qualified Workforce Immersion Program.
"We are excited that we have been able to produce this program for the fourth year," said Will Mackey, vice president of operations for The Chamber of Gadsden & Etowah County and organizer of EQWIP. "It connects educators from our area to a wide variety of manufacturing, technical and medical careers in the county."
The program is a partnership with The Chamber of Gadsden & Etowah County, East AlabamaWorks, Gadsden State Community College, Etowah County School System, Gadsden City Schools, and Attalla City Schools.
Almost 400 educators from the Etowah County School System, Gadsden City Schools, and Attalla City Schools gathered Oct. 10 at the Venue to kick off the day. Lisa Morales, director of East AlabamaWorks, encouraged the educators to engage in the day's activities and take back information about careers and training opportunities available to their students.
"Each year, we have about 1,000 students graduate from schools in Etowah County," she said. "Those graduates can help us fill our workforce pipeline. They may go to a two-year college or a four-year university; they may go into the military or go straight into the workforce. But, at the end of the day, they'll all go to work and that is what we need."
She said a highlight of the day is visiting academic and technical programs at Gadsden State.
"We need more machinists, welders, construction workers and healthcare providers," she said. "The great team at Gadsden State will show you how they provide hands-on training to those students who are providing our state with the services we need."
For the morning session, educators joined staff and volunteers for The Chamber on 10 buses. Each bus visited two different industries, including Prince Metal Stamping, Gadsden Fire School, Koller Craft, Gadsden Regional Medical Center, ZLA Solutions, Evoke Aviation, Encompass Health, Hokes Bluff Welding and Fabrication, Buffalo Rock and Stamped Products.
Mackey said the educators were exposed to different job opportunities within the diverse group of industries.
"Many of them didn't realize that aviation was even an option for a career in Etowah County until they visited Evoke Aviation," he said. "They learned about the current and future state of our healthcare system and the immediate need for nurses and other providers at Gadsden Regional. Even elementary teachers with young students were able to see the link between their students and their strengths with the job and training opportunities available in our community. It's never too early for educators to have a major influence on their students' career choices."
At noon, EQWIP participants returned to the Venue to network and have lunch before participating in an interactive group survey competition to recap what they learned at the various morning tours.
"The interactive competition after lunch was made possible through event partner East AlabamaWorks using the online interactive tool, Kahoot," Mackey said.
EQWIP organizers did some research and drafted questions about local industry, statewide statistics and other information that was covered during the morning session and tours. The competition was set.
"Survey data collected during the past EQWIP events showed that attendees consistently requested an interactive session during our lunch break," he said. "We were able to deliver that this year, and the attendees were very engaged in the activity. This made for a great way to recap what they heard earlier in the day while keeping them engaged and excited about being at EQWIP."
For the afternoon session, the 10 buses went to one of the three Gadsden campuses of Gadsden State Community College. Each group was able to visit two of 20 programs at the College.
"They visited programs that result in a high-wage job in an in-demand industry, like Industrial Automation, Precision Machining, Truck Driving and Construction Technology," said Alan Smith, dean of Workforce Development and Technical Education at Gadsden State. "They saw the options available to their students. They saw that their students can learn technical skills and employability skills right here in Etowah County, and, in two years or less, they can have an amazing, rewarding career."
Christi Robinson, president of The Chamber, said it was a great day for all involved.
"This was an important day that showcased economic and workforce development in Etowah County to hundreds of teachers, counselors and administrators," she said. "Through EQWIP, we showed how business, industry and education must work hand-in-hand for the betterment of our communities."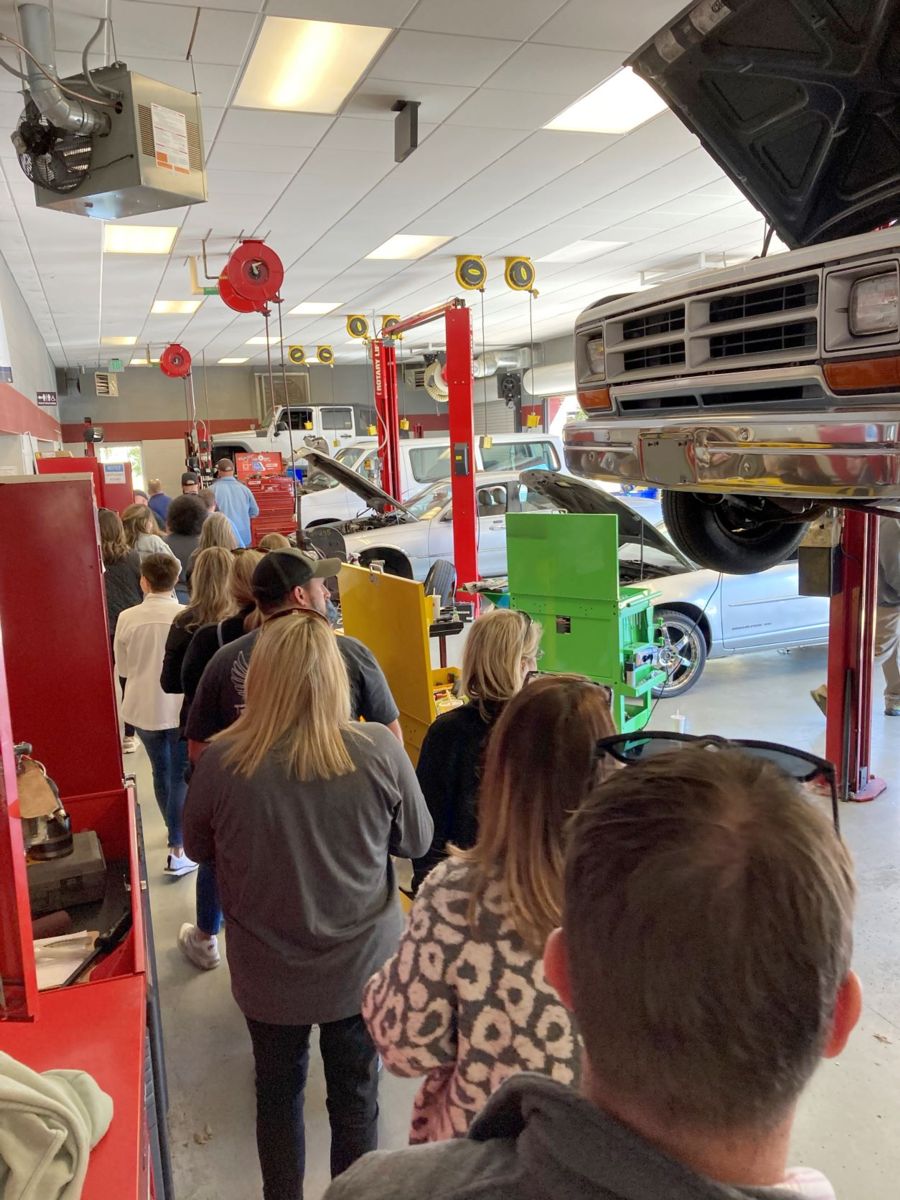 A group of educators participating in EQWIP walk through the hands-on learning space in the Automotive Services Technology Program.