Latest News
---
02/03/23
Gadsden state awarded Truth Initiative Grant
Gadsden, Ala. — Gadsden State Community College has been awarded a grant from Truth Initiative, a national public health organization dedicated to achieving a culture where all young people reject smoking, vaping and nicotine. Gadsden State is one of six higher-learning institutions in the country to receive the Truth Initiative award. The grant will be used to promote Forever Free, an initiative that encourages smoking and vaping cessation among students and employees through December.
"Vaping has become a serious health threat to our young people," said Julie White, a psychology instructor and a project leader for the Forever Free initiative. "According to the 2021 National Youth Tobacco Survey, over 2 million high school and middle school students are using e-cigarettes before they even come to college. Young people who use e-cigarettes are also more likely to start smoking cigarettes than their peers who do not vape."
White and co-leader, Yolanda Monroe-Robinson, a speech instructor at Gadsden State, have created a campus task force that includes two student leaders, Ashiureah Smith and Kourtney Tillman.
"We will work with our student leaders to spearhead educational efforts to engage and mobilize their fellow students to live a tobacco- and vape-free lifestyle," White said.
The first Forever Free event is scheduled as a part of Black History Month. During the "Love Your Lungs" event, students can enjoy a free lunch (while supplies last) and watch the documentary, "Black Lives/Black Lungs." Lincoln Mundy, a former intern with Truth Initiative, created the short film after receiving the organization's Youth Activism Fellowship. The documentary explores the history, marketing tactics and impact of the tobacco industry targeting Black Americans with menthol tobacco products. It also features experts and activists from across the country who are turning "anger into action."
"Black Lives/Black Lungs" will show from 1 p.m. to 2 p.m. Feb. 14 in the Multipurpose Room at the One Stop Center on the East Broad Campus and on Feb. 16 in the Cheaha Center Lecture Hall on the Ayers Campus. In addition to lunch for students, promotional items and quit kits will also be available.
For more information, contact Julie White at jwhite@gadsdenstate.edu or Yolanda Monroe-Robinson at ymonroe-robinson@gadsdenstate.edu.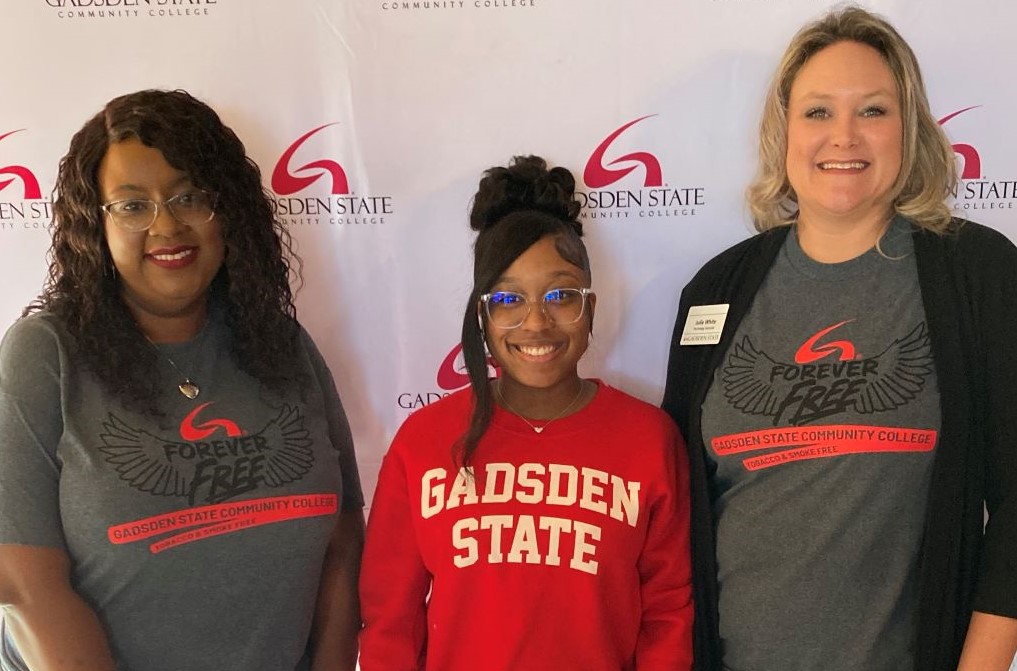 Student leader Ashiureah Smith, center, introduced the Forever Free Initiative at the recent Gadsden State Convocation for faculty and staff. She is pictured with Gadsden State instructors and co-leaders of Forever Free, Yolanda Monroe-Robinson, left, and Julie White.