Latest News
---
03/24/23
Taiwanese student looks forward to the 43rd annual International Festival
Gadsden, Ala. – For the first time since 2020, Gadsden State Community College is hosting the International Festival, an event created to be a cultural exchange that exposes the community to other cultures. This is the College's 43rd International Festival. It is co-sponsored by the Division of Languages and Humanities, the Alabama Language Institute and Students Without Borders.
The International Festival will take place from 4 p.m. to 6:15 p.m. April 6 at the Science Building on the East Broad Campus. It is free and open to the public.
"This is a great opportunity for people in our service area to meet some of Gadsden State's international students,'" said Elise Harbin, an instructor with the Alabama Language Institute. "Our students always enjoy interacting with the local community and immersing themselves in the culture. They enjoy sharing their culture as well. It's a wonderful learning opportunity for everyone."
Gadsden State has been accepting international students since 1968. The Alabama Language Institute is a part of programs offered to international students at the College. ALI has been helping students improve their English for 50 years. Over the past five decades, more than 6,000 students from at least 145 counties have attended Gadsden State. Currently, the College has 35 international students from 25 different countries. They speak at least 16 different languages.
"International students studying at Gadsden State and other American institutions bring immeasurable academic, cultural and economic value to our campuses and local communities," Harbin said. "We are so proud to have such a vibrant, diverse and active international population at Gadsden State."
Yi-Fen Shen is one of those international students. She is a native of Taiwan, where she was born Yoyo Shen.
"Can you believe that?" she said. "My mother thought it was cute."
In elementary school, her English instructor picked up a book, turned to a page and randomly selected her new name – "Sandy." In high school, she decided to change her name again and asked her friends to pick one. Shen is now known as "Rachel."
"We can change our name to whatever we want it be," she said. "I've had several names but I think Rachel has stuck."
Growing up in Taiwan wasn't easy for Shen. She said her family was "broken," and she was also struggling academically. She said students were not given course options and the schedule was very stringent.
"We went to school from 7 a.m. to 5 p.m.," she said. "Struggling students had to stay later for extra schooling. A lot of times I didn't get home until 10 p.m."
She said she failed all of the math classes and always made Cs and Ds in language and science courses.
"They taught us math like we were all going to be engineers or doctors," she said. "They didn't teach us real-life math skills. It felt like the teachers wanted us to fail. They were not student-friendly like they are here."
Shen explored other options. She went to Thailand and taught the Chinese language as well as to the Philippines, where she volunteered at a language school. The now 21-year-old found her way to Alabama in 2018 as an exchange student.
"My mom wanted my English skills to improve and she wanted me to experience other parts of the world," she said. "It was important to her that I get an education."
At first, Shen attended Douglas High School. It was not easy because of her limited knowledge of the English language.
"I couldn't talk," she said. "It took me about a year to learn to read and speak the language."
Eventually, she became more confident in speaking English and even succeeded in her academic courses.
"Americans are so friendly, and the teachers are so helpful," she said. "The way they taught me was much different than what I was used to but it worked very well for me. They started with the basics. I have a better understanding of math and science now. I'm pretty good at the language. I can make jokes now. I can order food for myself. I can go shopping by myself. Life is good."
Shen lives with the Addison family: host parents Scotty and Danessa and their children Emmeline, 7, and Trace, 2.
"During my first year, I didn't want to be here," she said. "But, they showed me a lot of love and patience. They accept me as part of the family. I'm not left out of anything. They treat me like they treat their biological children. I love them all so much."
In 2020, Shen transferred to Coosa Christian School to continue her studies. When the pandemic hit, she returned to Taiwan for six months. She couldn't wait to return to her family in Horton, Ala. This time, she brought back Lucy, a 3-year-old Formosan mountain dog she rescued.
"She's living her best life," Shen said about Lucy. "We live in the country so she loves running around in the fields and playing with the cow."
When Shen earned her high school diploma in 2021, she had no doubt where her next stop would be in her educational journey.
"I knew I wanted to go to Gadsden State," she said. "It's close to my home with the Addisons and it's affordable. I'm getting a good education without having to pay so much. It's much more affordable than a four-year university."
At Gadsden State, she is taking general studies courses and plans to apply to the Registered Nursing Program. She is a weekday resident of Gadsden State's on-campus dormitory, Fowler Hall, where she has met and bonded with her peers. She is the treasurer for Students Without Borders, a college organization for international students and Americans designed to create cultural understanding.
"We have so much fun together," she said. "We have picnics. We go to Gadsden State sporting events. We have traveled to Huntsville. We enjoy being together and learning from each other."
Shen said she looks forward to participating in her very first International Festival. The opening ceremony will begin at 4 p.m. with the Parade of Nations in the Science Building Auditorium. After the parade, attendees can explore different countries as students set up exhibits featuring their home countries. The 6 p.m. closing ceremony will recognize ALI's 50th anniversary as well as alumni from the institution.
"I'm so excited about the International Festival," Shen said. "I'm thrilled to be able to share my country with others. No one really knows a lot about Taiwan. I can't wait to speak in Chinese to people. It's going to be a lot of fun."
For more information about the International Program at Gadsden State, visit www.gadsdenstate.edu/international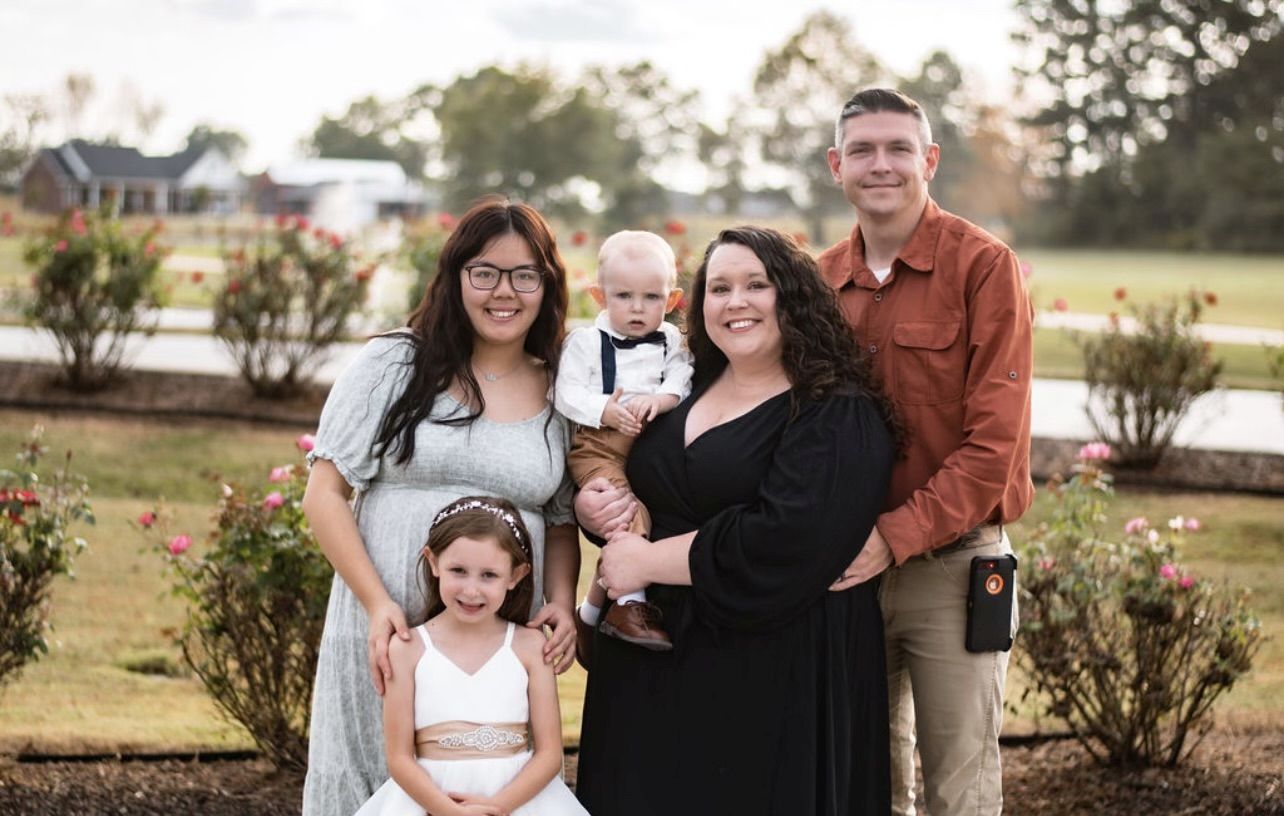 Yi-Fen "Rachel" Shen, left, is pictured with her American host family, the Addisons of Horton, Ala. – Emmeline, Trace, Danessa and Scotty.