Latest News
---
05/04/23
Phi Theta Kappa members at Gadsden State included on academic teams
Gadsden, Ala. — Two members of Phi Theta Kappa Honor Society at Gadsden State Community College have earned accolades for outstanding academic achievement as well as college and community service. Vanessa Cochran and Anabel Dillingham were selected for the Phi Theta Kappa All-Alabama Academic Team. In addition, Cochran has been named a Gold Scholar on the Coca-Cola Academic Team.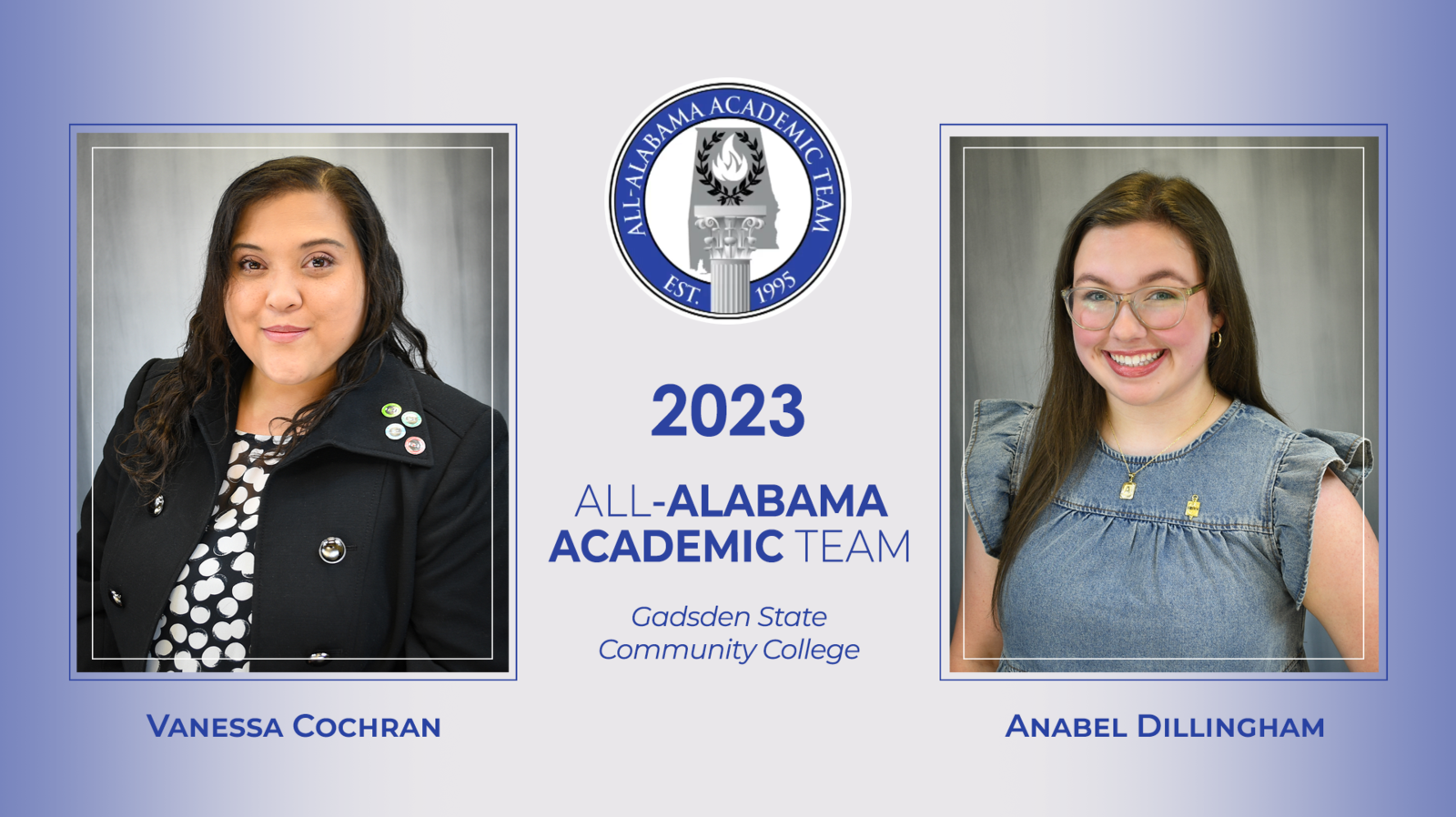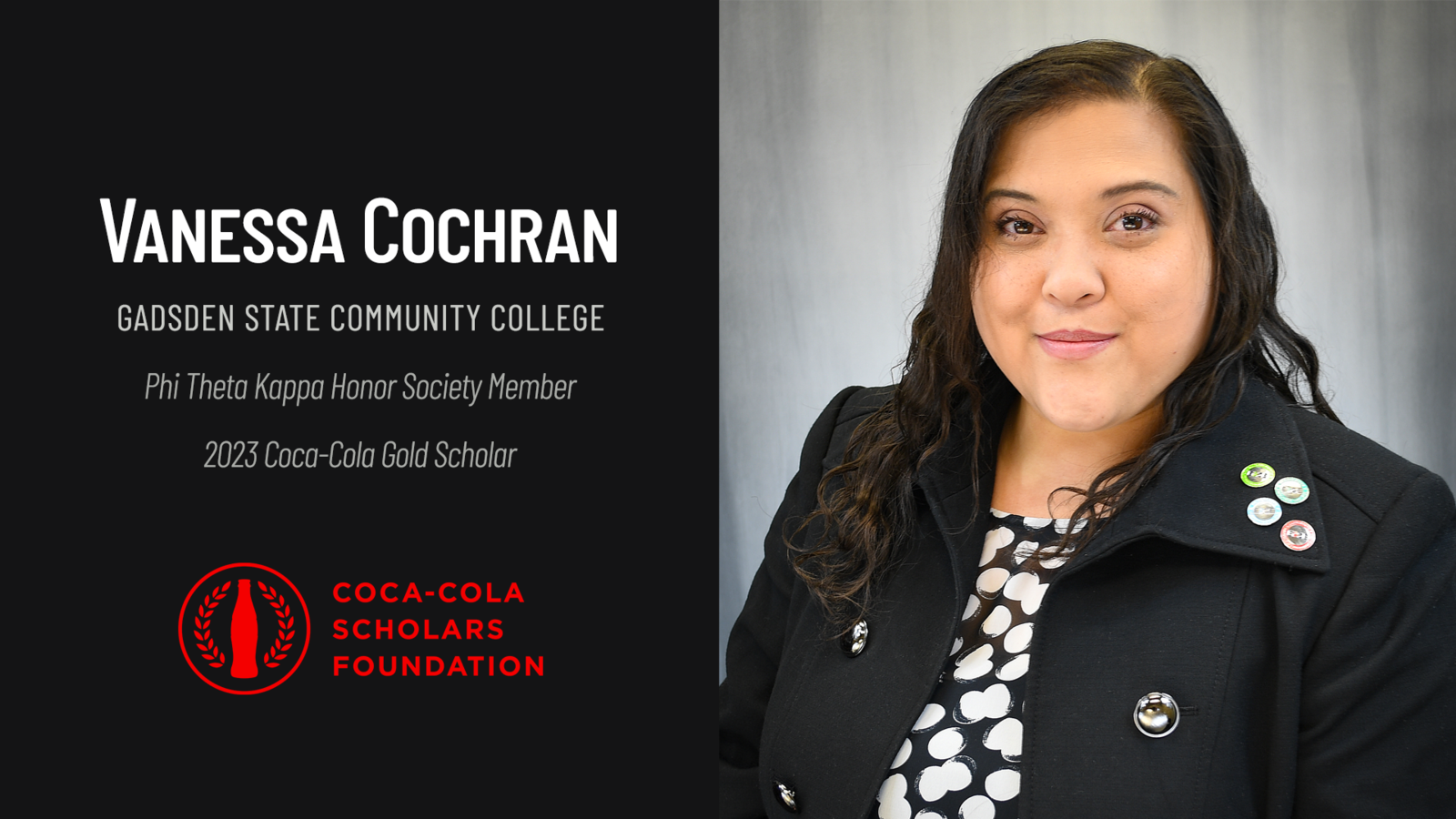 All-Alabama Academic team members are nominated by the faculty and reviewed by a selection committee. To be eligible, students must have a 3.25 minimum GPA, complete at least 12 hours at the nominating college and be involved in campus activities. Each community college in Alabama nominates two students for the team.
Students are nominated by college administrators for the Coca-Cola Academic Team. They must be members of Phi Theta Kappa and are selected based on academic achievement, leadership and engagement in college and community service. As a Gold Scholar, Cochran will receive a scholarship worth $1,500 for the Fall Semester. She is one of only 50 students nationwide to receive the award and was chosen from more than 2,400 applicants.
Vanessa Cochran
Cochran is not your traditional college student. She's 36 years old, and she enrolled at Gadsden State many years after graduating from Shades Valley High School in 2004.
"I attempted going to college several times and, needless to say, it went poorly," she said.
In 2018, she was hired as a party planner at a hospitality complex in downtown Birmingham, where she was responsible for scheduling and executing parties and events. Two years later, the COVID-19 pandemic drastically changed the direction of her career.
"It's hard to do parties when parties are illegal," she said.
Soon after, the management team went from 150 members to five.
"I was not one of the five who got to keep their job," she said. "They had degrees. I didn't."
Enrolling in college again was not an easy task. After attending three four-year universities, her GPA was a 1.1.
"I had medical issues," she said. "I suffered from depression. I was confused and lonely so I did not do well in school. No one was willing to hold my hand and encourage me – until I came to Gadsden State."
Cochran said she may not have enrolled – and excelled – had it not been for the encouragement she received at Gadsden State.
"The faculty and staff are amazing," she said. "I've never been to an institution that cares so much about their students. They give students the opportunity to succeed. I would not be where I am today without them."
Since enrolling in January 2021 as a general studies student, Cochran has maintained a 4.0 institutional GPA, which has increased her overall GPA to a 3.42.
"I'm miles away from where I was," she said. "I went from doubt to being encouraged daily and being told that I can achieve everything I set my mind to."
When Cochran found out she received the prestigious Gold Scholar Award from the Coca-Cola Foundation, she found it ironic.
"I've gone from a student with a 1.1 GPA to a nationally-rated scholar," she said. "It's funny where life takes you sometimes."
Cochran is one of Gadsden State's most active and influential student leaders. She serves as the president of PTK, vice president of TRIO for Success and a peer tutor for the Cardinal Tutoring Center and Student Support Services. She is a student representative on the Diversity, Equity and Inclusion Committee and a contributor to the Cardinal Arts Journal. She facilitated the PTK Action in Honors Project and has participated in building over 400 beds with Sleep in Heavenly Peace as a member of TRIO for Success. She most recently assisted in the organization of the Don't Drop It On Alabama project for Gadsden State.
In April, Cochran was awarded the Allen-Ray Award at Honors Day. It is the highest honor presented to a student at Gadsden State. She also was named a Student of Distinction and Outstanding CTC Peer Tutor.
After graduating from Gadsden State, she plans to continue her education by majoring in Secondary Education at Jacksonville State University. She wants to be a middle school teacher or a teacher for prisoners and parolees working towards a GED, technical credential or academic degree.
"The best recidivism fighter is education," she said. "It is so important to provide educational opportunities to all people. I feel certain that I can influence people to continue their education. If I can do it, anyone can do it."
Cochran is married to Joshua Cochran and they live in Steele with their 5-year-old son, Noah.
Anabel Dillingham
Dillingham was born in Savannah, Ga., but she never really put down roots long enough to call any place "home." Her father served in the military and moved the family about every two years to many different places, including Germany, Alaska, Texas and Louisiana. When he retired in 2020, the Dillinghams settled down in Cedar Bluff.
"My dad always had a dream of being in the cattle business," she said. "We also missed the south, so we moved back to the south and started raising beef cattle."
After Dillingham graduated from Bonaventure Life Academy in 2020, she decided to enroll at Gadsden State.
"I had many life-altering surgeries due to a sports injury, so I wanted to be close to home while I recovered," said the former competitive dancer. "I knew Gadsden State was the place for me."
Despite having two more surgeries during her time at Gadsden State, Dillingham became involved in campus life. She was inducted into Phi Theta Kappa and joined TRIO for Success and the Student Government Association. She also served as a peer tutor at the Cardinal Tutoring Center at Gadsden State Cherokee.
"I've really enjoyed Gadsden State," she said. "It's so accessible to people from all walks of life. I knew with my circumstances and lifestyle that Gadsden State would be ideal for me."
At the recent Honors Day, Dillingham received the Outstanding Achievement Award, which recognizes students who have succeeded in pursuit of a higher education in spite of varying difficulties. She also received the Opportunity Transfer Scholarship from Jacksonville State University.
After she graduates from Gadsden State on May 11, she will attend Auburn University to study Culinary Science and Business. Dillingham was awarded the Carol Pickens Memorial Endowed Scholarship and the James Seaborn Boyd Scholarship to attend Auburn.
"I'm really grateful and excited about everything that has happened to me at Gadsden State," she said. "When I found out about the All-Alabama Academic Team, I was in disbelief because my peers are so amazing and have done so many wonderful things. I'm so thankful."
Cochran, Dillingham and other All-Alabama Academic Team members were recognized at a banquet April 14 in Birmingham.
Phi Theta Kappa is the premier honor society recognizing the academic achievements of community college students. The society is made up of more than 3.5 million members with nearly 1,300 chapters in nine nations.