Latest News
---
05/05/23
Gadsden State nursing instructor honored by national organization
Gadsden, Ala. – Belinda Terrell Fuller, a nursing instructor at Gadsden State Community College, said she has always had a great passion for nursing. It's that passion that has captured the attention of her peers and has earned her the Nurse's Touch Award from ATI Nursing Education, a leading provider of online learning programs for nursing students.
Four award winners were honored with Fuller being the only one from the South and the only one teaching at a comprehensive community college. Other winners include Gary Beck from Northern Career Institute in Ohio; Dawn DePriest from Washington State University; and Paula Kustenbauder from Pennsylvania State University. Winners received complimentary registration, hotel lodging and airfare to attend the National Nurse Educators Summit held last month in San Antonio.
"When I found out I won, I really could not believe it," Fuller said. "It was such a shock. I'm quite humbled."
According to a press release announcing the award, the individuals earning the Nurse's Touch Award not only must excel at teaching students the technical knowledge and skills required to be safe and competent nurses, but they also must set the example for students. Winners were chosen by nomination based on their leadership, professional communication, wellness/self-care and knowledge of nursing technology.
"The awards were given to the most highly-skilled nursing educators and professors at colleges and universities," said Dr. Cynthia Mullinax, director of Gadsden State's Nursing Program. "We are beyond proud of Belinda."
Fuller always had a desire to be a nurse. When she was a 16-year-old high school student in Albertville, she participated in mandatory career counseling.
"I told my guidance counselor that I wanted to go to the University of Alabama to become a nurse," she said. "She wasn't being mean but she laughed because she knew I lacked resources. She knew a four-year university wasn't in the cards for me. I was very naïve. I never really thought about finances until that moment."
Fuller explored more affordable colleges and researched financial aid and scholarship opportunities. She qualified for a Pell grant and enrolled at Gadsden State Community College in 1975. To make ends meet, she worked as a technician at a hospital while carrying a full course schedule.
"I've always been a proponent of community colleges," she said. "Without a community college, I wouldn't have had a doorway to education."
After completing her registered nursing requirements in 1977, she enrolled at Jacksonville State University, where she earned her Bachelor of Science in Nursing in 1980.
During her 46-year career, she has worked in coronary care, cardiac rehabilitation and general medical and surgical care. She also worked as a patient educator and childbirth educator. She said she truly believes nursing is a calling.
"Through the decades, I have held babies as they took their first breath and held far too many folks as they took their last breath," she said. "It's such a privilege to be with patients and families when they are the most vulnerable; to know you have made a difference in their lives, even if it's just comforting them at the end. Nursing has to be calling. If you don't feel called, you'll never be happy in this profession."
In 1996, Fuller took on the role as an adjunct nursing instructor at Gadsden State before moving to a full-time position in 2001. She now works as an instructor with Bridget Rogers, coordinator, in the Licensed Practical Nursing Program on Gadsden State's Valley Street Campus.
"I think it's so important for us to have a local LPN program because we are in the worst nursing shortage ever," she said. "We are struggling to fill positions at our local hospitals, extended care facilities, clinics and medical offices. Through our program at Gadsden State, students can complete their training in three semesters and then go straight to work."
Fuller said Gadsden State graduates have gone on to be amazing nurses, medical researchers, nurse practitioners and doctors.
"One of my greatest joys is when students graduate and I hear about them being successful," she said. "They accomplish so much; much greater things than I ever have. It is humbling for me when they say how we prepared them as nurses when they complete our program. They tell me how much Gadsden State means to them."
Even more special is when Fuller hears from others that one of her students provided great care to them or a loved one.
"It is so special when they tell me how competent, kind and compassionate one of our nursing graduates was to them," she said. "I think of this as a direct reflection of the quality education the individual received at Gadsden State Community College."
It's no wonder that great teachers produce great professionals. Mullinax said that Fuller has always had the highest level of excellence in being the quintessential "professional nurse."
"Belinda puts patients first and teaches students how to be their advocate," she said. "She maintains a professional appearance at all times as well as a professional demeanor, especially with students. She has taught the concept of professionalism for many years in our nursing program. She is one of our hardest-working clinical instructors. She is a role model to these students just getting started in the profession and does a lot of coaching with them. She is an amazing instructor who incorporates multiple active-learning strategies in the classroom."
More information about Gadsden State's Nursing Program can be found at www.gadsdenstate.edu/nursing. Applications for the traditional and mobility Registered Nursing Programs are being accepted through May 19. Applications for the Spring 2024 cohort for the Practical Nursing Program will open Aug. 1.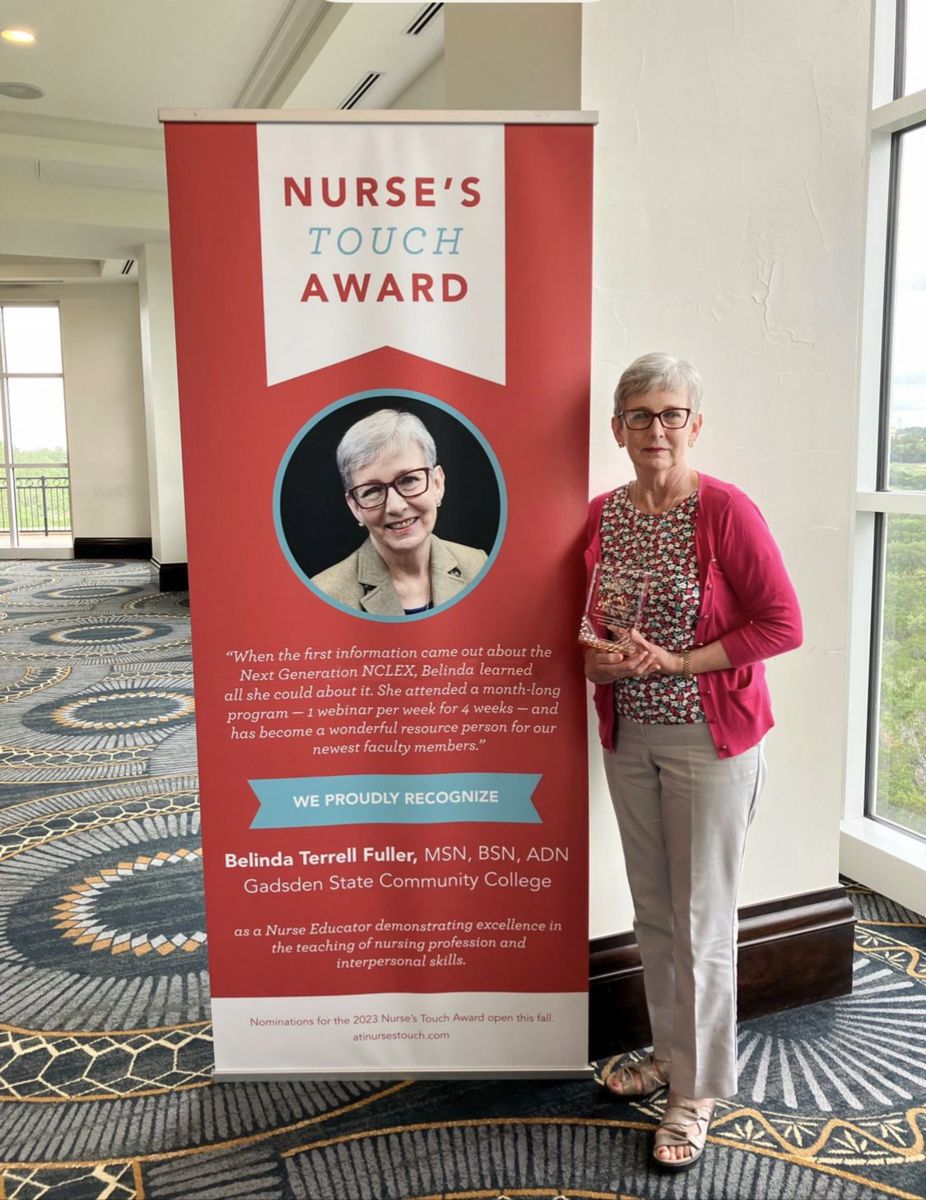 Belinda Terrell Fuller, nursing instructor at Gadsden State Community College, is pictured with the Nurse's Touch Award. She received the honor at the National Nurse Educators Summit held in April in San Antonio.