Latest News
---
06/13/23
Gadsden State receives $12 million in supplemental budget for manufacturing center
Gadsden, Ala. — Gadsden State Community College was granted $12 million in the Education Supplemental Appropriation Bill recently approved by Alabama legislators and signed into law by Gov. Kay Ivey. The money will be used in constructing and equipping the Advanced Manufacturing and Workforce Skills Training Center on the East Broad Campus in Gadsden.
"The $12 million that was set aside in the supplemental budget for Gadsden State is a direct result of the support and advocacy of our legislators," said Dr. Kathy Murphy, president. "We appreciate our legislators and their support of Gadsden State and the Alabama Community College System."
Nearly $522 million in new funding for ACCS institutions was approved in the education budget and supplemental bill.
Some of the highlights from the supplemental bill include:
$316,237,500 for expenses associated with construction and renovation projects at ACCS institutions, including Gadsden State's AMC
$103 million for the construction and equipping of facilities for inmate education in state prison facilities (ACCS provides the education and training opportunities)
$30 million for career technical facilities and equipment upgrades
$31 million to establish the Alabama Centers for Rural Healthcare Opportunities, a collaboration between the community colleges, rural healthcare employers and communities
$5 million for deferred maintenance, renovation of existing facilities or expenses associated with ongoing capital projects at ACCS institutions
$1 million for the Innovation Center
Highlights from the Education Budget include:
Funding for a 2 percent pay raise for community college employees on Board of Trustees-approved salary schedules
Funding for a 30-year step increase, meaning an additional approximate 3 percent pay raise for long-serving employees with 30 or more years of service
"This historic level of support is a clear demonstration of the confidence that Alabama policymakers have in ACCS and our employees," said ACCS Chancellor Jimmy Baker.
Murphy was joined by Baker and other education leaders on July 28 to announce the construction of the 50,000-square-foot, state-of-the-art center. Since that day, she has maintained that facility will change the lives of those in the community "for good, forever."
"I'm so proud that Gadsden State was selected by our leadership in Montgomery to be home to a facility that will change lives for good, forever," she said. "The Advanced Manufacturing Center will train and educate Alabama's workforce. We are providing reskilling and upskilling for our adults. We are jumpstarting the careers of our young people through career technical opportunities. Gadsden State is providing positive change and progress to the communities we serve."
Rep. Ginny Shaver (R-Leesburg), a former Gadsden State student and a supporter of the center's construction, agreed with Murphy.
"The Advanced Manufacturing Center will have a meaningful impact on the lives of real people," she said. "By providing first-class facilities and workforce training opportunities for our citizens, Gadsden State is assisting the next generation of industrial and manufacturing leaders."
Sen. Andrew Jones (R-Centre) calls the AMC a game changer.
"The new center will train a new generation of highly-skilled workers in Etowah and surrounding counties to fill the high-wage, in-demand jobs of the future," he said. "I'm excited about the opportunities for growth that this facility will bring to our region."
Rep. Craig Lipscomb (R-Gadsden) said he knows the state is getting a great return on investment at Gadsden State.
"The Advanced Manufacturing Center will train our machinists, maintenance technicians, engineers, electronics professionals and more," he said. "It will provide education to those who are in professions that are high-wage and in high-demand. Through training and education, Gadsden State improves the quality of life for those in our community and, in turn, has a great economic impact on our region and our state."
Gadsden State broke ground for the facility on Feb. 21. The construction of the AMC is approximately $24 million with funding also coming from a statewide bond issue passed by the Alabama Legislature in 2020 to provide funding for facility upgrades and new construction for all levels of education. The AMC will feature 10 laboratories, seven classrooms, 11 offices, a multipurpose room, 10 tool and storage rooms, a storm shelter, a testing suite, a kitchen and serving area, a breakroom and six restroom areas. It will also feature glass viewing areas that allow prospective students and industry partners to have laboratory visibility during tours; a safety entrance for students loading and unloading from cars or buses; and a digital display with information for job seekers and industry partners.
For more information on the Advanced Manufacturing and Workforce Skills Training Center, visit www.GadsdenState.edu/AMC.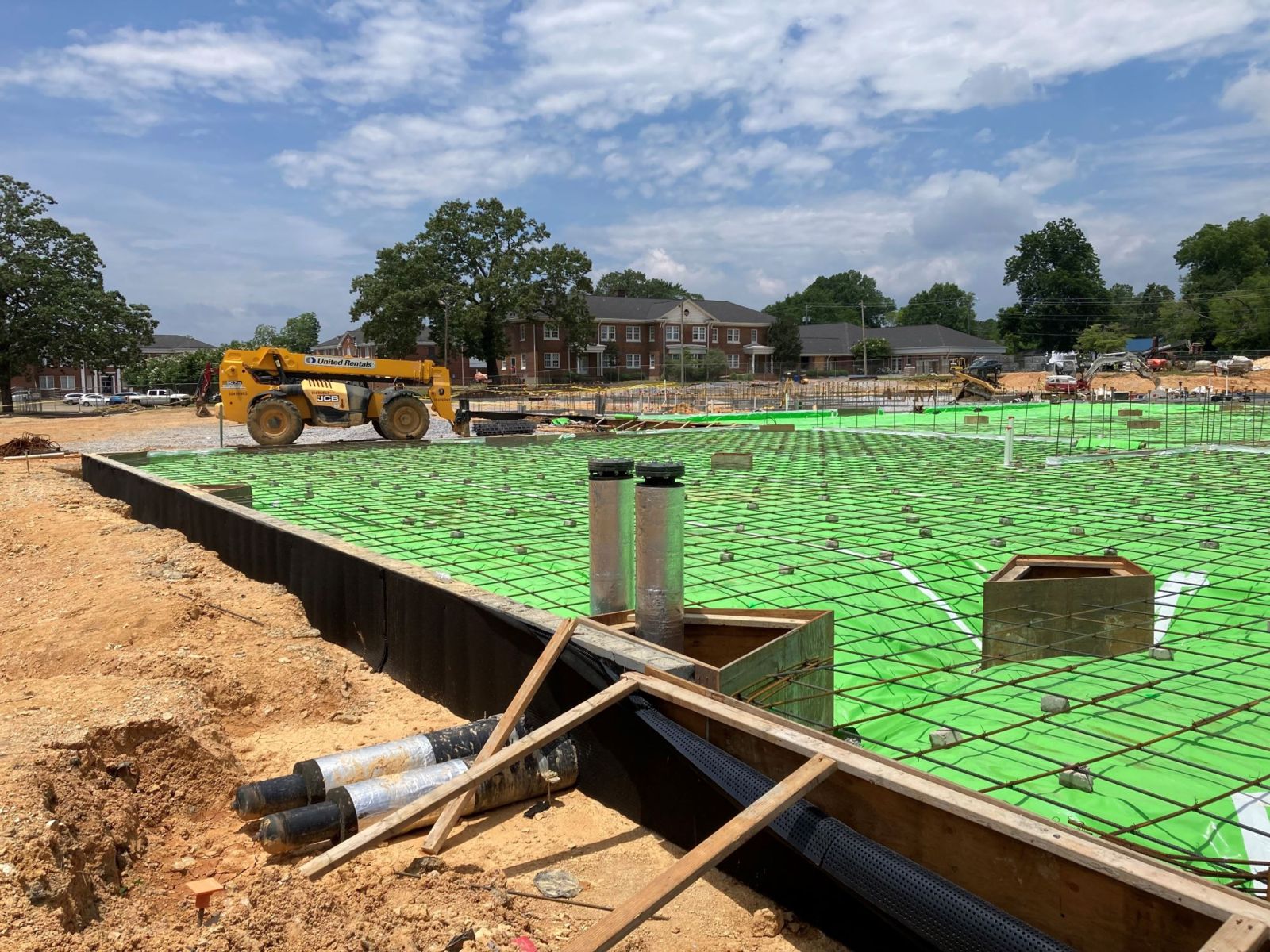 Construction of the Advanced Manufacturing and Workforce Skills Training Center is underway on the East Broad Campus of Gadsden State Community College.