Latest News
---
06/15/23
Echocardiography certificate increases employability, job security for working sonographers
Gadsden, Ala. — The Echocardiography Certificate Program at Gadsden State Community College gives working sonographers the opportunity to build on their current skills and add a modality to their resume. Shirley Gray is one of those sonographers who took advantage of the unique health science program.
"It is very important to me to continually gain knowledge that will benefit my career as well as the patients I serve," she said. "You can never learn too much."
Gray started her career in 2005 after completing the Radiography Program at Jefferson State Community College. She worked as an x-ray technician for the University of Alabama at Birmingham Hospital before spending six years conducting off-site x-rays with a mobile unit.
"I knew I wanted to make more of an impact on my patients," she said. "I was going to different locations, taking pictures of bones and leaving. I wanted to do more."
Gray researched her career options and decided to pursue sonography at the DCH Sonography School, a hospital-based program in Tuscaloosa. In 2014, she completed the program and spent the next five years driving from her home in Trussville to Tuscaloosa to work as a sonographer at DCH Regional Medical Center.
"I immediately enjoyed ultrasound," she said. "It's very hands-on, and I have more responsibility in patient diagnosis. We find what's going on in the patient, and we show it to the doctor. My job as a sonographer really gives me purpose."
In 2019, she decided to give up the daily drive to Tuscaloosa and started working as needed at Princeton Baptist Medical Center in Birmingham. Having four registries at the time in abdomen, obstetrics/gynecology, vascular and breast, Gray was a highly sought-after employee but she still wanted more.
In 2021, Gray found out that Gadsden State added the Echocardiography Certificate Program to the Diagnostic Medical Sonography Program on the Valley Street Campus. It was one registry she did not have, so she was intrigued.
"There was nowhere locally that taught Echo," she said. "I decided that it was worth the drive to Gadsden to complete a course that would positively affect my career. I always take advantage of learning more."
Gray secured scholarships and grants she needed to enroll in the program, including the Wells Fargo Active Tuition Scholarship, the Higher Education Emergency Relief Fund Books Grant, the Cardinal Foundation Excellence in Leadership Scholarship and a Gadsden State Health Sciences Scholarship.
"Money was tight so the financial assistance I received helped a lot," she said. "Gadsden State faculty and staff work hard to help students find the funds needed to fulfill our educational goals."
The Echo Program is open to those who meet one of the following criteria:
Graduate of a DMS program accredited by the Commission on Accreditation of Allied Health Education Programs
Be a sonographer registered in vascular
Have at least five years of clinical scanning experience
The Gadsden State program is available online with an in-person lab one evening per week for three semesters. It is the only hybrid program of its kind in Alabama.
"The way Gadsden State designed the program made it possible for me to complete," Gray said. "Because it's a hybrid course, I was only required to come to Gadsden once a week. Our instructors gave us the information we needed, and we were responsible for studying and learning what we needed to know to pass the registry. The program really is designed for the working sonographer."
Gray was thrilled when she earned her echo registry in 2022. Now, she works full time at Tanner Medical Center in Carrollton, Ga., and continues to PRN at Princeton as well as at Ascension St. Vincent's East.
"I'm proud that I have earned five registries," she said. "I encourage my fellow sonographers to go for their echo certification at Gadsden State. My only regret is that I didn't do it sooner. The more you know, the more you experience, the more networking you can do, the better. It all pays off."
Applications for the next cohort for the Echocardiography Certificate Program at Gadsden State will be accepted through June 30. For more information, visit www.gadsdenstate.edu/dms.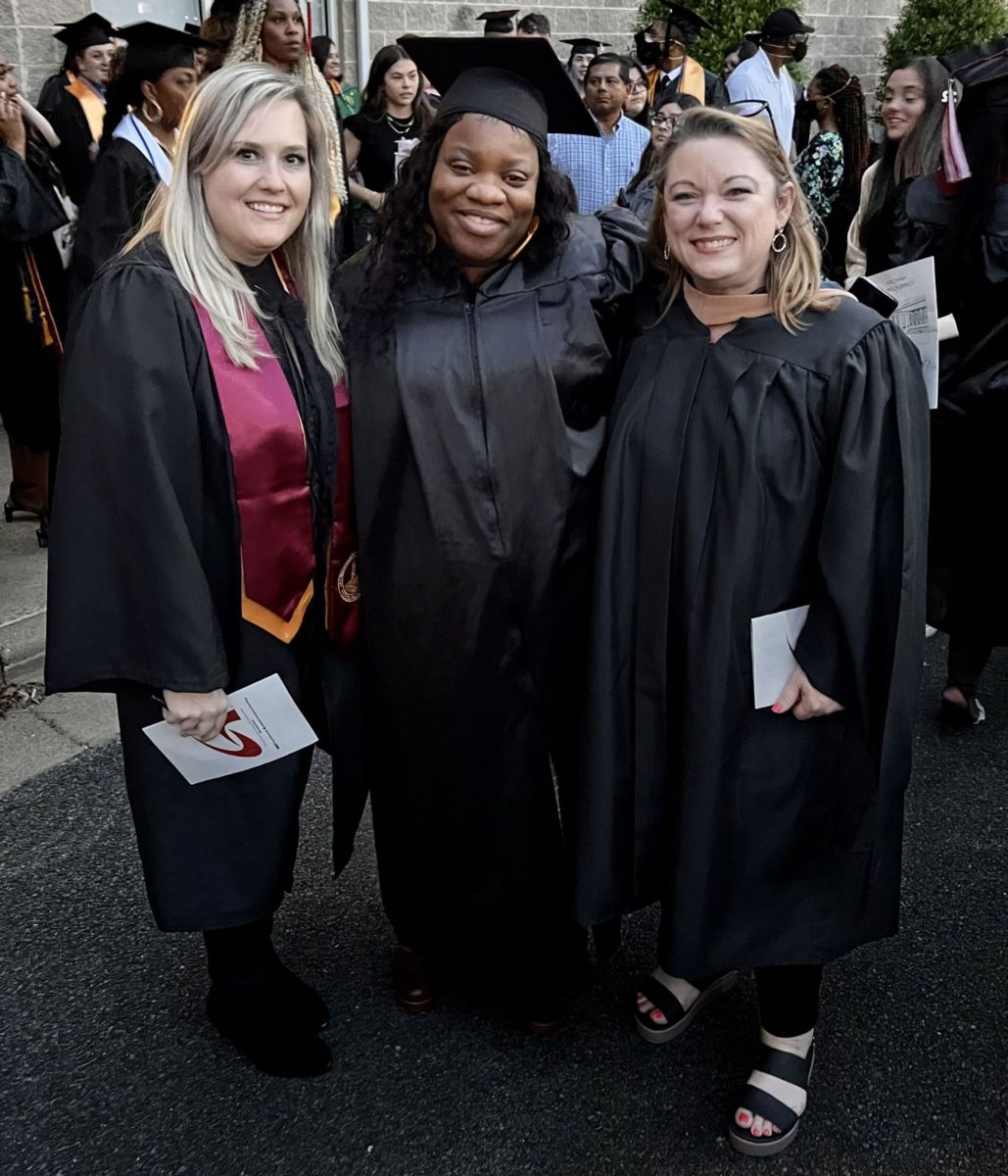 Shirley Gray, middle, is pictured at the 2022 Commencement Exercises after receiving her certification in echocardiography. She is pictured with Rebecca Southern, right, director of the Diagnostic Medical Sonography Program, and Amber Sneed, the former instructor of echocardiography.