Latest News
---
07/14/23
New scholarship pays half tuition for Chamber members, employees
Centre, Ala. — Members of the Cherokee County Chamber of Commerce and the executive cabinet from Gadsden State Community College gathered today to announce a new partnership that includes free tuition.
"We are excited about the partnership between our Chamber and Gadsden State," said Joy Perry, Chamber director. "The free tuition program is a great benefit for our members and for our community."
Dr. Kathy Murphy, president of Gadsden State, announced that members of the Cherokee Chamber of Commerce and their employees may be eligible for the Buy One Get One Free Scholarship that includes a free course for each paid course at Gadsden State during the Fall Semester, which starts Aug. 21. Registration is open now.
"This scholarship program is unique," she said. "I'm not aware of another college that has made this big of a commitment to their community. We are meeting you halfway by providing 50 percent of your tuition, and we are honored to do so. We feel like this is a great way for Gadsden State to step up and be a partner with all of you."
Murphy said the BOGO Scholarship announcement coincides with the 60th anniversary of the Alabama Community College System.
"On May 3, 1963, legislators created the groundwork for what would become the Alabama Community College System," she said. "Our leaders sought to create accessible educational opportunities in the arts, sciences, skills and trades."
The founding institution for what is now Gadsden State Community College was the Alabama School of Trades, which opened in 1925 as the first state-operated trade school in the South.
"Gadsden State was in existence way before the legislators came up with the concept of ACCS," Murphy said. "We have a rich history; one that we are very proud of."
Murphy was joined by Chamber Board President Aimee Kilgo to sign a Memorandum of Understanding detailing the BOGO Scholarship.
"Thank you for letting us serve you on this beautiful campus in Cherokee County," Murphy said. "We are here to support you."
The MOU signing with The Chamber of Gadsden and Etowah County took place on July 6. The MOU signing with Calhoun County Chamber of Commerce will be at 3 p.m. July 20.
ELIGIBILITY REQUIREMENTS
Must be a full- or part-time employee of The Chamber of Gadsden and Etowah County, the Cherokee County Chamber of Commerce or the Calhoun County Chamber of Commerce or an employee of a chamber member
Covers Fall Semester 2023 with the option to continue the program through the Spring Semester 2024 if deemed successful by the College or partner chambers
Can be used for programs resulting in a certificate or an associate degree
Must be in good academic standing with any previously-attended college
Must maintain at least a 2.5 GPA to remain eligible for scholarship
STEPS TO APPLY
Request a letter from their employer, on company letterhead, that contains:

Re: GSCC / Chamber Scholarship
Employee's Name
Gadsden State Student ID Number (if known)
Company Name
Verification of Current Employment

Apply for admission to Gadsden State (if not already a student)
Register for classes for the upcoming semester
A form that can be obtained on OneACCS from the Gadsden State website must be submitted. A link is also provided on www.gadsdenstate.edu/BOGO. The form requires an attached letter from the employer and a class schedule. Students must be registered for classes before submitting the form so that BOGO funds may be applied appropriately.
ADDITIONAL INFORMATION
BOGO Scholarship cannot be combined with any other institutional aid, tuition discounts or specialized package pricing due to other MOUs.
Books, fees and other costs associated with the free course are the responsibility of the employee.
The scholarship is not retroactive.
Gadsden State and each Chamber partner will monitor the performance of the BOGO Scholarship Program and revise as necessary.
Representatives from the College and each Chamber will meet at least, but not limited to, once per semester. These meetings will serve to discuss and agree upon any proposed changes, problems or items that need to be updated or corrected.
Each involved party reserves the right to terminate the program upon reasonable notice.
The public will be notified of any changes to the BOGO Scholarship Program
Questions about the BOGO Scholarship? Email admissions@gadsdenstate.edu.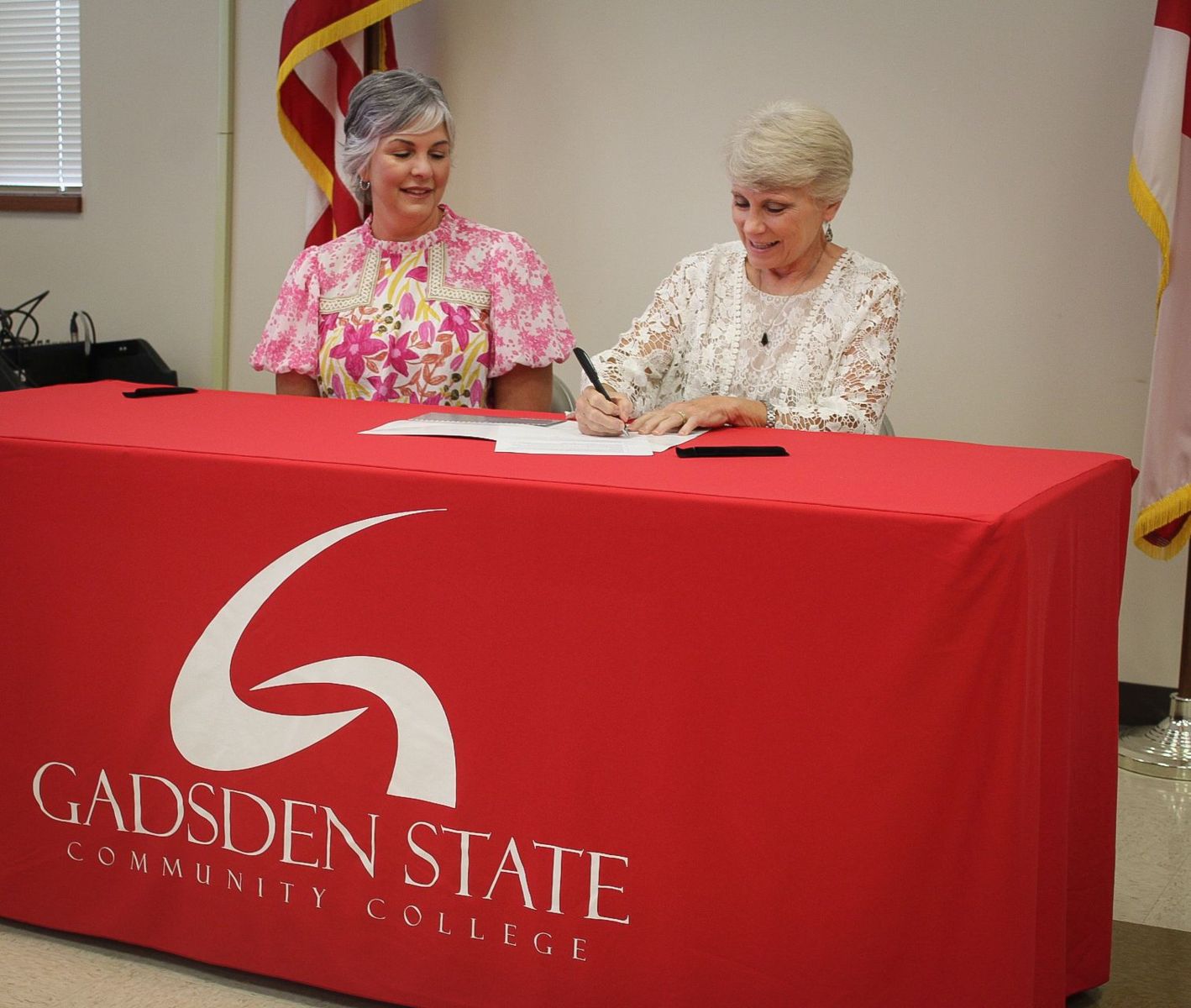 Dr. Kathy Murphy, president of Gadsden State, right, signs the MOU for the BOGO Scholarship. She is joined by Aimee Kilgo, president of the Cherokee Chamber of Commerce Board of Directors. The new scholarship provides Chamber members with a free course for every paid course at Gadsden State.