RN Apprenticeship Program
The Nurse Apprenticeship Program at Gadsden State Community College provides nursing students with the ability to earn while participating in on-the-job learning as a student nurse apprentice at a registered apprenticeship employer. Nursing students are able to complete required clinical experiences throughout the last four semesters of nursing school while participating in the Nurse Apprenticeship Program.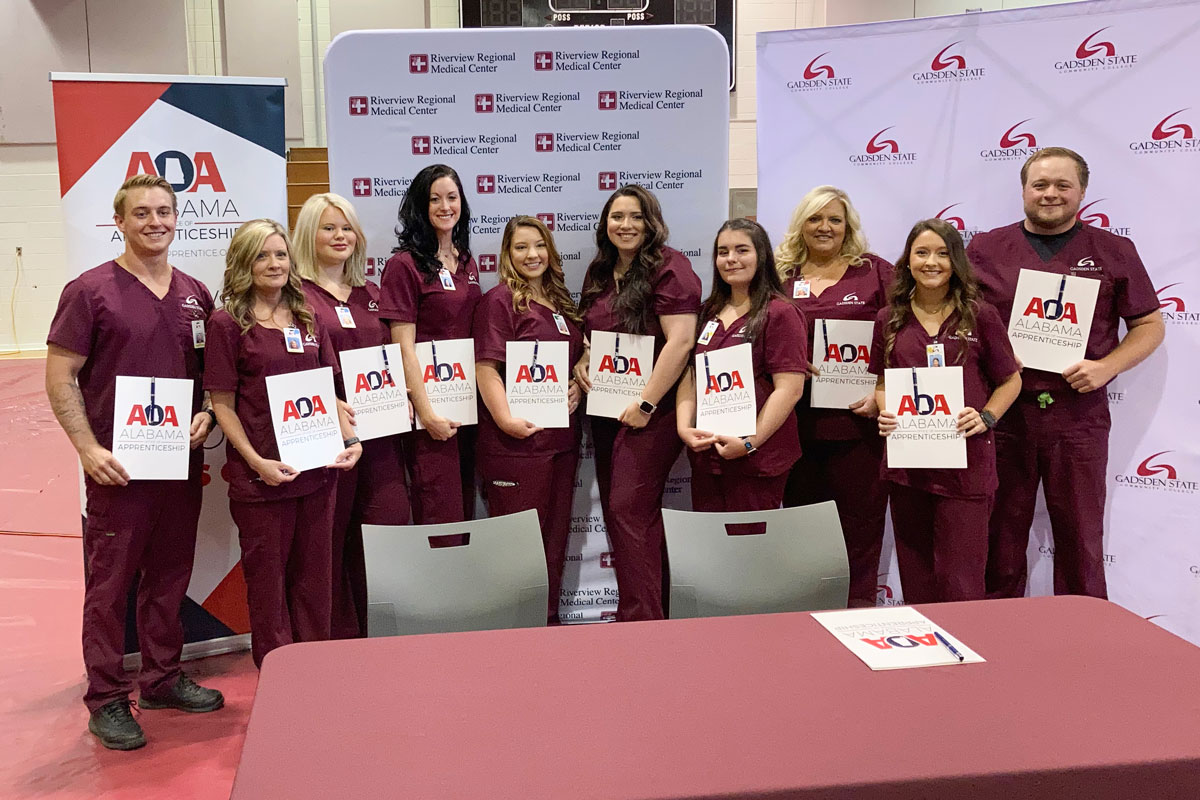 History of Apprenticeship:
Amendments made to the Alabama Nurse Practice Act in the 2021 Legislative Session allowed the Alabama Board of Nursing to issue apprentice permits
Effective March 17, 2022
Involved entities are the Alabama Office of Apprenticeship, Alabama Community College System, Alabama Board of Nursing and Employers
Gadsden State Community College Nursing Education Program piloted the first RN Apprenticeship Program in June 2022
Facts:
Students who apply to the Apprenticeship Program must be active, current nursing students at Gadsden State Community College and at least 18 years of age.
Students are provided the opportunity to submit an apprenticeship application after successfully completing the first semester of the nursing program.
Student applicants who meet the minimum qualifications for apprenticeship will have an opportunity to be interviewed by participating employers.
Employers will hire students based on their requirements and the number of open positions they have available. All apprentices sign an apprenticeship agreement with the employer.
Student apprentices must commit to working for the same healthcare facility for the entirety of the nursing program. Included in working days are clinical days when students will get on-the-job learning experiences. These clinical days include clinical hours required by the nursing program.
Student apprentices must apply to the Alabama Board of Nursing for a nursing apprentice permit.
Student apprentices are not paid for on-campus classes, labs, or simulation. Student apprentices are paid for clinical hours, not to include simulation.
Student apprentices will work one-on-one with a registered nurse (mentor/preceptor) from the healthcare facility. Students will be held accountable to the same clinical requirements as non-apprentice students in the program.
The Nurse Apprenticeship Program is four semesters in length.
For more information, contact Dr. Cynthia Mullinax, GSCC Nursing Education Program Director at cmullinax@gadsdenstate.edu or 256-549-8452.
---
This apprenticeship program requires a combination of on-the-job learning on-site and nursing coursework or labs/simulation at the campuses of Gadsden State Community College. Candidates must be flexible and have the ability to be in school for full semesters and on the job site for on-the-job learning. Apprentices are paid while on the job and while performing clinical hours. Apprentices are not paid for on-campus classes, skills labs, or simulation.
The Health Sciences LPN Apprenticeship Program Application for Spring 2023 is open and will close April 5, 2023 at 8:00 a.m. Receipt of an application does not guarantee acceptance into the program.
---
---
The sponsor will not discriminate due to race, color, religion, national origin, sex (including pregnancy and gender identity), sexual orientation, genetic information, disability, or age over 40 years. The sponsor will take affirmative action to provide equal opportunity in the apprenticeship and will operate the apprenticeship program as required under title 29 of the Code of Federal Regulations, part 30. Right to Equal Opportunity: It is against the law for a sponsor of an apprenticeship program registered for Federal purposes to discriminate an apprenticeship applicant or apprentice based on race, color, religion, national origin, sex, sexual orientation, age (40 years or older), genetic information, or disability. The sponsor must ensure equal opportunity with regard to all terms, conditions, and privileges associated with apprenticeship. If you think that you have been subjected to discrimination, you may file a complaint within 300 days from the date of the alleged discrimination or failure to follow the equal opportunity standards with Josh Laney with the Alabama Office of Apprenticeship located at One Technology Court, Montgomery, Alabama 36116. Phone number is 334-280-4414 and email address is info@alapprentice.org. You may also be able to file complaints directly with the EECO, or State fair employment practices agency. If those offices have jurisdiction over the sponsor/employer, their contact information is listed below. The EEOC can be reached at 1-800-669-4000.